Home » Hospital & Durable Medical Equipment » OB/GYN Exam Tables » Pneumatic Backrest Exam Table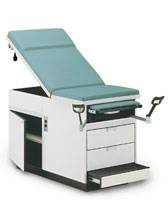 Pneumatic Back Exam Table
Retail Price: $2,361.82
Your Price: $1,874.29
You Save: $487.53
Pneumatic Backrest Exam Table
Item# 0244HSM
Features:
2 Drawers in front and one door on side with shelf
Built-in front safety tread footstep
Removable vinyl top pad attached with hook and loop fasteners
Contoured padded head section
Sliding legrest extension with removable pad attached with hook and loop fasteners
Heavy duty concealed stirrups adjust in length and are laterally adjustable in four positions
Vinyl coated heel rests
Paper dispenser and paper cutter
Hospital grade duplex outlet
Black laminate base with leveling legs
Cabinet is folkstone gray laminate
Please click the options tab to select upholstery color
Specifications:
Weight capacity: 400 lbs
Length: 55in-71in
Width: 26in
Height: 33in
Manufacturer Warranty: 3 years
Side Mounted Safety Rail
(sold seperately)


Safety Rail can be mounted only to side(s) of cabinet-style. Safety Rail raises 10" above top surface. Lowers flush with top. 18" wide. Sturdy black powder coated steel. Specify if right or left side.