Home » Hospital & Durable Medical Equipment » Standard Bed Pillows » The Snore-No-More Pillow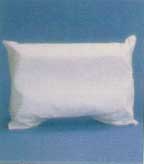 Retail Price: $58.59
Your Price: $43.37
You Save: $15.22

The Snore-No-More Pillow
Item# 0326FMMDHGSI
Snore No More Pillows improves breathing by keeping the chin away from the chest, the jaw forward and the airway open.
Stop Snoring Pillow supports and positions the head and neck to improve alignment, whether sleeping on the side, back or stomach.
Made of hypoallergenic premium foam; will not harbor mildew.
Fits standard pillowcase.