Home » Hospital & Durable Medical Equipment » Bariatric Equipment: When OTC is NOT an Option » Bariatric Equipment: When OTC is NOT an Option
Bariatric Equipment: When OTC is NOT an Option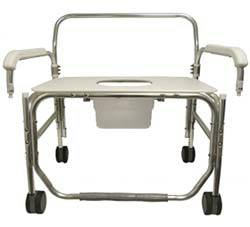 Item# UADPX8231INCMD
Retail Price: $1,263.17
Your Price: $919.49
Unit:
single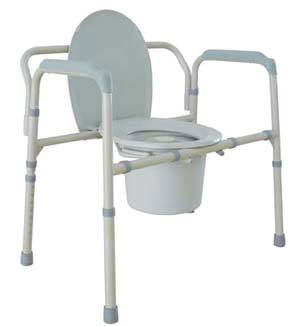 Item# 1-N71111DRV
Retail Price: $237.41
Your Price: $175.21
Unit:
single
Item# 1-84111DRV
Retail Price: $93.27
Your Price: $73.07
Unit:
single
With obesity rates climbing, it is the medical communities desire to assist bariatric patients on their road to recovery and better health by providing them and their caregivers with the best bariatric equipment available. Professional today understand the needs and accommodations of bariatric patients and we carry a vast array of bariatric equipment to meet these needs. Below are a few brief descriptions highlighting a small selection of the bariatric equipment available today. Be sure to evaluate your options when selecting bariatric equipment to ensure all of your needs are met.
Bariatric equipment is designed to assist with personal mobility. The various models of Bariatric Wheelchairs are constructed with extra-strength components to withstand long term use with minimal maintenance. They also feature heavy-duty wheels with airless pneumatic tires. Various models of Bariatric Recliner Wheelchairs are designed with aerospace grade reclining cylinders that provide smooth and safe reclining movement. All bariatric models feature spring loaded caster forks, extra large calf pads, and reinforced upholstery. For extra support and comfort go with bariatric wheelchair cushions which are designed for heavier weights. The bariatric walkers and bariatric rollators provide sturdy, dependable support while sustaining the compact, lightweight engineering found in standard models. These items are crucial to patients on the road to rehabilitation.
Bariatric equipment needs extend to the bedroom. There are various bariatric beds and bariatric mattresses to consider. The precision engineering and super-strength components make selecting a bariatric bed and bariatric mattresses the best option on the market. These items ensure lasting support and comfort without causing wounds related to bed sores and pressure sore ulcers. Electric bariatric beds have a state-of-the-art UL approved electronic operating system that provides safe and smooth operation for both patient and caregiver. Look for all-inclusive packages that ensure each bariatric bed comes complete and ready to use. Packages include different bariatric bed models, various bariatric mattress combinations, with an assortment of railing systems and accessories. Bariatric patients may also require assistance in and out of the bed, or to simply reposition themselves. To assist in this area, look for a bariatric patient lifts or a hoyer patient lifts. These items are designed to provide both caregiver and patient the stability and security necessary to ensure all patient moves are conducted safely and smoothly.
Bariatric equipment is also necessary in the bathroom. Bariatric Commodes are extremely helpful in both home and healthcare settings. Also availabe are bariatric shower chairs and bariatric shower chair commodes for use in showers and tubs. The bariatric commodes, shower chairs provide the extra-strength and reliable support while maintaining the lightweight, compact engineering found in other standard models. These items provide extra mobility, balance, and support while at the sink, toilet, or urinal.
In healthcare environments, bariatric medical equipment has become a modern commodity. Your equipment doesn't stop there. Bariatric medical exam tables for bariatric patients and bariatric scales are engineered to provide accurate weight results and body mass indexes. For wheelchair-bound patients search for state-of-the-art bariatric wheelchair scaleor an electronic bed scale that allows bed-ridden patients to be weighed simply, carefully, and accurately.