Home » Hospital & Durable Medical Equipment » Catering Carts: Meals on Wheels » Catering Carts: Meals on Wheels
Catering Carts: Meals on Wheels
Item# 0175SKLMD
Retail Price: $9,862.97
Your Price: $8,510.96
Unit:
single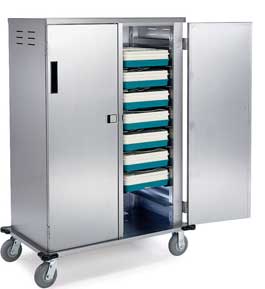 Item# 0275LKE
Retail Price: $7,280.30
Your Price: $5,421.00
Unit:
single
Unknown to many, a hospital cafeteria serves two purposes. The side most visitors see is that of the food service in the cafeteria's dining area. Here, visitors, hospital workers, and ambulatory patients procure their meals at all hours of the day. For many, the cafeteria serves not only as a refueling spot, but also as a comfort zone away from the hustle and bustle of the wards and waiting rooms where dodging catering carts is not as stressful as avoiding gurneys. Behind the scenes, though, there is another aspect of the hospital which is even more important: the job of bringing meals to the patients. The efficiency of the cafeteria does much to ensure that everyone is fed in a timely manner, and much of this depends upon having quality catering carts which will stand up to the rigorous demands of the hospital's food service side.
There are many different needs for catering carts, and each of these needs has a different type of cart to fulfill the role such as utility carts, food serving carts, buffet carts and meal delivery carts. Commonalities are seen among the highest of quality in all of these, though, and you should educate yourself as to these as well as the specific requirements of the different cart types. You should demand carts made only of high caliber stainless steel with reinforced corners. These prevent bending and twisting of the metal and wearing out at vital junctions. Optional bumpers along the edges are also positive features to prevent damage to the cart itself if it is steered into a wall. Plenty of shelf space is vital, to prevent frequent trips to and from the kitchen. Cutting down on these kitchen commutes can help the cafeteria run much more smoothly and efficiently.
Stainless steel is the most common material for the crafting of quality catering carts. There are several reasons behind this. Stainless steel is durable and will not rust, adding to its longevity, no matter how many times the carts are bumped or jostled. Additionally, stainless steel is much easier to clean and disinfect than porous materials. Being able to disinfect all equipment in the kitchen is vital to preventing the growth and spread of food borne illnesses. While a healthy person's body can fight off a case of food poisoning in a short time, immune-compromised patients are at risk for potentially fatal complications from it. The cleanliness of all kitchen equipment is literally a life or death matter.
Why should having high quality catering carts matter? As a buyer for a hospital food service facility, you are likely under a tight budget. This means that every purchase must be viewed as an investment. The longer that it lasts to serve its purpose, the greater the return. Poorly made catering carts will give out within a few months of use, requiring too frequent replacements. This is a waste of money and will be unfavorably viewed by budget committees.
For your hospital cafeteria to run at its optimal catering level you will need a supply of high caliber catering carts which will last through the use and abuse of their daily service to the hospital and its patients.