Home » Hospital & Durable Medical Equipment » Medical Chairs For Examination Rooms » Medical Chairs For Examination Rooms
Medical Chairs For Examination Rooms
Item# B10011BWR
Retail Price: $591.06
Your Price: $484.29
Unit:
single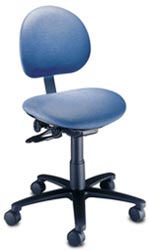 Item# B53412BWR
Retail Price: $938.26
Your Price: $870.00
ships w/i 5-10 days
Unit:
single
Item# B00422BWR
Retail Price: $475.22
Your Price: $367.14
ships w/i 5-10 days
Unit:
single
Making the patient comfortable while providing the right access for examinations are key factors in selecting the right medical chairs for examination rooms and patient treatment areas. Without the correct chair both the physician's work is much more challenging, plus the patient is not going to feel at ease. Selecting the right types and options in medical chairs really is a function of what type of specialized or general medicine the clinic, hospital or doctor practices.
Recliner patient medical chairs are often advantageous in a number of examination and treatment rooms. A Trendelenburg reclining chair allows the patient to be easily placed in the Trendelenburg position with the feet elevated above where the head is located. These chairs typically have a full range of possible positions from upright to fully reclined, making it easy for the doctor to position the patient as needed. Other options for these types of reclining medical chairs include arms that fully swing out for easy patient access as well as antimicrobial surfaces and special designs that allow easy removal of coverings between patients. For a less clinical type of appearance these reclining chairs with the Trendelenburg mechanism may also look very similar to recliners used in homes, providing a much more relaxing and comforting environment.
Medical treatment traction chairs are ideal for hospitals, examination rooms and even therapy types of facilities. These chairs typically have several different electrically operated actuators that allow the staff to position various components of the chair to comfortably and correctly position the patient. These controls are managed by foot switches to give the staff maximum ability to assist and support the patient while the chair is being positioned. Arm rests and leg rests can also be independently positioned for easy in working with the patient and examination.

Very specialized types of medical chairs such as mammography chairs are also important in providing the most comfortable environment for the patient while still allowing the physician or technician to position the patient for examination and imagining. The chairs are designed to be raised and lowered using a foot treadle to position the patient correctly for the mammography. The chair can also rotate a full 360 degrees as well as recline or move forward depending on the individual. In addition the backrest, arms and headrest can be removed for easy cleaning or comfort of the patient.
Another popular option in physician examination rooms are medical chairs that fully recline into patient examination tables. These types of medical chairs have several features that can be added to them as needed. They include IV pole stands and brackets, pull out foot rests for examinations, sleeping wedges for patient comfort as well as storage areas under the chair for easy access to equipment and supplies.

With so many types of medical chairs and additional options for the chairs it is important to know what is needed before making a final selection. Looking for chairs with antimicrobial fabric or easy clean options is important in most hospital and patient treatment settings, as are fire retardant materials used it the construction of medical chairs.
MSEC remains dedicated to providing the very best and the very latest in medical supplies and equipment. We never cease to be on the lookout for the latest innovation that will benefit both our many clients and the patients they dedicate their lives to caring for. If you have any difficulty finding your choices in our vast inventory, call our customer service at 1-877-706-4480 to speed up your order or to make a special request. We are always happy to help you.