Home » Hospital & Durable Medical Equipment » Flammable Safety Cabinets For Secure Storage » Flammable Safety Cabinets For Secure Storage
Flammable Safety Cabinets For Secure Storage
Item# F22CSSAND
Retail Price: $673.03
Your Price: $571.66
ships w/i 5-10 days
Unit:
single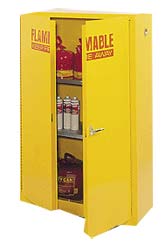 Item# PF054CSSAND
Retail Price: $1,447.65
Your Price: $874.89
ships w/i 5-10 days
Unit:
single
Item# F003CSSAND
Retail Price: $749.69
Your Price: $636.79
ships w/i 5-10 days
Unit:
single
Within most hospitals, clinics, medical facilities and health care institutes there is the need to store highly flammable and dangerous materials. Flammable safety cabinets are an essential storage device that helps to prevent accidently misuse of the chemicals and also control any issues that may arise when the chemical are being stored. As with any type of hospital equipment security and protection for both staff and patients is at the forefront of the design of these types of specialized storage cabinets.
All flammable safety cabinets used in medical facilities have to meet both OSHA (Occupational Safety And Health Administration) guidelines as detailed in standard 1910.106 as well as NFPA (National Fire Protection Association) code 30. These guidelines provide information on the construction, materials and types of flammable safety cabinets that are considered acceptable for different classes of liquids. Liquids of other classes cannot be stored within flammable safety cabinets unless the cabinet meets the specific requirements for that category of compound or liquid. In addition certain combinations of liquids or compounds cannot be stored together within flammable safety cabinets, since they react with such devastation if accidentally combined or in contact with each other. Compounds and liquids are only stored together if they meet the specific and respective guidelines to prevent any possible hazards from developing.
Typically flammable safety cabinets are constructed out of heavy 18 gauge welded steel. In addition the construction will include double wall design for extra security and protection. Venting in the flammable safety cabinets is done through capped vents to the top of the cabinet, typically with flash arrestors if the cabinet vents. Flash arrestors are important in preventing the spread of fire in the event the chemical produce a reaction within the flammable safety cabinets. The vents can also be securely vented to the outside of the building as per the safety and building codes.
Other safety features of flammable safety cabinets include spill proof or leak proof doors that provide protection from dangerous liquids leaking out from the bottom of the cabinet in the case of an internal spill. Typically most flammable safety cabinets also have self-leveling feet, allowing them to be placed and leveled even in areas that may not be perfectly uniform. Shorter 35 to 44 inch flammable safety cabinets are perfect for fitting into smaller areas such as under fume hoods or even directly under standard windows in storage areas or equipment rooms. Locking doors with manual closures ensures that only people with authorization can access the materials stored within the cabinet.
In order to clearly identify flammable safety cabinets they should be brightly painted and labeled. Most cabinets are painted a bright yellow with red lettering indicating that the contents are flammable. With the double walled, 18 guage construction standards these cabinets are typically very solid and heavy, so are floor standing units not wall mounted units. In addition most flammable safety cabinets also have a shelf capacity of up to 500 pounds, ensuring that they are capable of holding large quantities of any required flammable liquids or compounds.
MSEC remains dedicated to providing the very best and the very latest in medical supplies and equipment. We never cease to be on the lookout for the latest innovation that will benefit both our many clients and the patients they dedicate their lives to caring for. If you have any difficulty finding your choices in our vast inventory, call our customer service at 1-877-706-4480 to speed up your order or to make a special request. We are always happy to help you.