Home » Hospital & Durable Medical Equipment » Food Carts For Service Around the Clock » Food Carts For Service Around the Clock
Food Carts For Service Around the Clock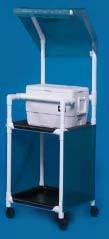 Item# 04CI-LVIPU
Retail Price: $415.52
Your Price: $307.63
Unit:
single
Item# 63CI-LVIPU
Retail Price: $303.82
Your Price: $225.89
Unit:
single
One of the tasks required of in-patient facility cafeterias is to find some means of feeding those who must stay all hours of the day and night. Food service carts play a large role in this Herculean task. Service could mean serving breakfast to interns as they just get off their shift at 6am, or it might require offering a healthy lunch to family and friends taking a break from their long vigils with loved ones. The service in the cafeteria itself, though, is just the front seen by visitors. There is another half to the equation which goes unseen but is perhaps more vital than the feeding of those with the ability to leave the hospital. This is catering to the patients. Their meals must be carefully prepared to their dietary specifications and placed on food service carts for delivery to their rooms. Poorly made carts not only risk giving the patients cold food, but they could potentially put the patient's very life in danger. That is why knowing the aspects which make quality carts is vital to your catering.
How can food service carts put a patient's health at risk? It all comes down to temperature control. Most of these carts are built as refridgerater on wheels, but while some cool, many of them are heated. Both the heating and cooling regulation systems in these carts are vital to the safety of the food. No matter how many times the doors are opened, the temperature inside must be maintained. If it is not, the food inside could reach the "danger zone". These are internal food temperature between 40 and 140 degrees Fahrenheit. If left in this range for any length of time, bacteria begin to multiply. This can lead to food born illnesses, which for some patients whose immune systems are already compromised, this could be fatal. Hot food must be served hot and cold food must be served cold for the safety of the patient. A reliable, easy to read thermometer on the side of the cart will help you to ensure that the food you are delivering is safe.
Depending upon the number of rooms to which you must cater, you might need food service carts with the ability to carry anywhere from six to twenty trays. No matter how many trays are held inside the cart, it still must be easy to maneuver throughout the hospital corridors. This means having large polyurethane casters of at least five inches in diameter as well as bumpers to protect the cart from damage.
Even if the food service cart is for use in the cafeteria, the amount of space on it is still important. Roomy carts with side shelves allow you to have more on the cart. This will reduce the need for repeated returned to the kitchen for refills of full trays or condiments or returning of used trays. By being able to have an ample amount of supplies on the food service carts, you will increase the efficiency of the cafeteria and help things to run more quickly and smoothly even during the busiest of times.
The primary purpose of food service carts is to efficiently and safely serve those in the hospital and cafeteria while lasting through daily use and abuse. Finding high quality carts will ensure that they will live up to their intended purpose in your hospital cafeteria.
MSEC remains dedicated to stocking the very best and the very latest in medical supplies and equipment. We never cease to be on the lookout for the latest innovation that will benefit both our many clients and the patients they dedicate their lives to caring for. If you have any difficulty finding your choices in our vast inventory, call our customer service at 1-877-706-4480 to speed up your order or to make a special request. We are always happy to help you.