Home » Hospital & Durable Medical Equipment » Hospital Bassinets: First Home a Newborn Will Know » Hospital Bassinets: First Home a Newborn Will Know
Hospital Bassinets: First Home a Newborn Will Know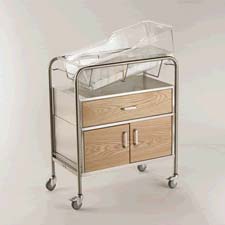 Item# LD3-CDxFW-BNNKM
Retail Price: $3,737.79
Your Price: $2,692.17
Unit:
single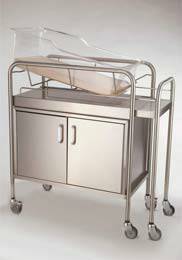 Item# XE-8207NKM
Retail Price: $1,516.00
Your Price: $1,078.68
Unit:
single
Using hospital bassinets has become ever important in today's day and age of pristine hospital environments. As soon as a child is born and looked over, they will soon find their home in their mother's arms – and after then, into a hospital bassinets & child cribs. For those first few moments of life, the baby will be sheltered from the world and shown that everything is safe and tranquil. But choosing the right hospital bassinet will allow your hospital to be properly outfitted for your needs. Here are some basic advantages of using bassinets in the first place.
Sturdy and Safe for the Newborn Child:
The baby who is first born is quite fragile and susceptible to injury and illness. Thus, they need to be put into an environment which will help them maintain their health and safety. With hospital child bassinets, you can place a plastic crib into the top section and then transport the child from one area of the hospital or home to the other without strain or incident. The hospital bassinet you choose should have sturdy wheels and a solid metal construction to ensure this is the case. Though it's rare for the child to encounter any troubles in the quiet hallways, accidents can and do happen, so the sturdier the base of their new home, the more likely they are to arrive at their final destination without a single problem.
In addition, the construction of the hosptial infant bassinets helps the movement of the crib to be much easier, especially in tighter spaces. You can also find models with have locks on the wheels to help secure a newborn in a particular space, as needed. The construction will also allow for smooth turns as opposed to jerky movements. The brain and the body of the newborn is so sensitive that even the smallest disruption in their actions can cause severe damage, after all.
Additional Storage for the Newly Born:
Most hospital bassinets will also come with a shelving system or an enclosed area where supplies can be stored for future use. This allows nurses and medical professionals to always have emergency equipment available and ready for immediate use. In addition, you will find that stocking your hospital bassinet with these items also helps when you have multiple babies using the bassinets day in and day out. By simply keeping a running supply of medical equipment underneath, the child is always ready for anything which may happen. Some hospital will also keep additional blankets and other bedding materials underneath to help with the bed changing time of day.
No matter what your need for hospital bassinets is, you will find that these are the perfect compliment to a crib. By adding more stability and storage, this mobile container allows the child to move freely through the space he or she is in – visiting parents, going to doctor appointments, etc. The newborn child deserves to be kept safe for as long as possible and hospital bassinet is up to the task.