Home » Hospital & Durable Medical Equipment » Hospital Bed Mattresses: Selection Guide » Hospital Bed Mattresses: Selection Guide
Hospital Bed Mattresses: Selection Guide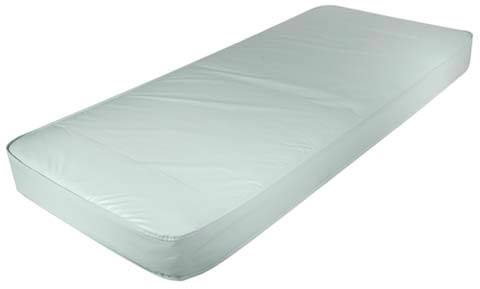 Item# 60051DRV
Retail Price: $494.23
Your Price: $344.29
Unit:
single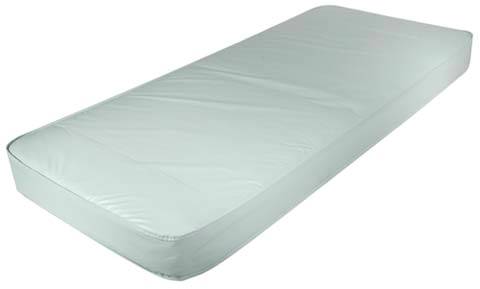 Item# FE60051DRV
Retail Price: $508.64
Your Price: $337.99
Unit:
single
One of the most critical pieces of equipment for a patient's therapy and recovery is the hospital bed mattress. The hospital bed mattress is perhaps the most underrated and undervalued piece of medical equipment in the healthcare field, yet it's absolutely critical to provide the patient with the appropriate comfort and support to ensure a full and healthy rehabilitation. Our on-line inventory carries a wide array of hospital mattresses designed specifically for this purpose.
The most important factor to consider before purchasing a mattress for someone who will be bed-ridden for an extended period of time is the prevention of bedsores and pressure sore ulcers. Bedsores can be attributed to a number of reasons and poorly made and poorly maintained mattresses are very significant factors. In a bed-ridden patient, a bedsore can form quite rapidly but take months to heal.
There are the three main causes of pressure sore ulcers. Too much pressure applied to different areas of the body will inhibit normal blood flow, causing a bedsore. If the mattress isn't kept clean of debris and fluid, or it doesn't keep the skin dry by absorbing moisture, a bedsore will form. There must also be a reduction of friction that may cause tears in the skin. The best treatment is prevention, and the most important preventive measure is having the appropriate hospital mattress.
Here is a brief overview of the different categories in our mattress inventory:
Alternating Pressure Hospital Bed Mattresses

Alternating pressure mattresses are designed to provide comfort and durability for patients undergoing pressure sore ulcer treatment and prevention. These mattresses are simple to set up and designed to fit any standard hospital or homecare beds.
Low Air Loss Hospital Bed Mattresses

Low air loss mattresses are engineered to reduce interface pressure for the prevention and treatment of stages I - IV pressure sore ulcers. These mattresses control pressure, lessen moisture, shear, and friction – all related causes to pressure sore ulcers.
Pressure Reduction Hospital Bed Mattresses

Pressure reduction mattresses feature premium quality, high density foam cores, giving them the strength and durability to handle patients up to 400 lbs. The cores are further augmented by bonded convoluted foam layers, allowing patients greater comfort and pressure reduction.
Bariatric Hospital Bed Mattresses

Bariatric mattresses are designed for heavier patients. The heavy-duty, high-density engineering will provide long-lasting reliable use. These mattresses will provide the comfort and durability the bariatric patient needs while ensuring proper blood flow to extremities and reducing pressure sore ulcers and bed sores.
Gel Hospital Bed Mattresses

Gel mattresses are designed for maximum pressure relief and durability at affordable prices. The mattresses contour to the patient's body, relieving pressure even on high risk areas. The mattresses are designed to use a minimum amount of gel, yet providing maximum pressure relief.
Foam Hospital Bed Mattresses

Every foam mattress in our inventory is made from high-quality dense foam for firm support throughout the entire mattress. The foam mattresses we supply are compress pact for easy delivery and storage.
Water Hospital Bed Mattresses

The water mattresses we supply are designed for maximum pressure relief and durability at affordable prices. The mattresses contour to the patient's body, relieving pressure and thereby reducing the risk of bed sores. The mattresses are designed to use a minimum amount of water, yet providing maximum pressure relief.
Innerspring Hospital Bed Mattresses

The innerspring mattresses in our inventory are constructed with top-quality inner springs, providing comfortable firmness throughout.
MSEC remains dedicated to stocking the very best and the very latest in medical supplies and equipment. We never cease to be on the lookout for the latest innovation that will benefit both our many clients and the patients they dedicate their lives to caring for. If you have any difficulty finding your choices in our vast inventory, call our customer service at 1-877-706-4480 to speed up your order or to make a special request. We are always happy to help you.