Home » Hospital & Durable Medical Equipment » Small Features Make A Big Difference In Linen Carts » Small Features Make A Big Difference In Linen Carts
Small Features Make A Big Difference In Linen Carts
Item# XC-07-LTQC
Retail Price: $2,932.69
Your Price: $2,238.46
ships w/i 20-25 days
Unit:
single
Item# X-1002-QTTQC
Retail Price: $4,422.99
Your Price: $4,096.15
ships w/i 20-25 days
Unit:
single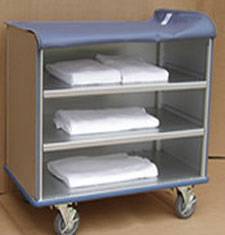 Item# X-709-DPSTQC
Retail Price: $2,995.90
Your Price: $2,134.62
ships w/i 20-25 days
Unit:
single
In any type of medical care facility from an emergency ward through to a hospice the need to have the most efficient and effective tools on hand to get the job done is a must. This is true for medical care of patients as well as for the housekeeping and janitorial staff. With a busy schedule of rooms to clean it is essential that the linen cart design selected is helpful to staff and provides the features required to get the job done.
There are two different basic styles of laundry carts and they include the open and the enclosed options. Open linen carts do not have doors or a rolling cover which allows easy access from all sides of the cart to the supplies. Enclosed carts have either sliding or opening doors or a cover that protects and covers the contents of the cart. Both have their advantages as well as some disadvantages. The biggest difference is that the enclosed linen carts provide protection for clean linens in the cart, even in areas where there may be spatter or the chance of contamination. This means that they can double for storage areas when necessary.
The open carts are typically not suitable for long term storage since there is no way to stop dust or debris from contaminating the contents of the cart. However, for short storage in linen closets or laundry areas they may be an acceptable option. Both types of linen carts, the enclosed and the open, have a variety of different configurations for shelves. Some have two or three movable shelves that extend the entire length and width of the cart, making them literally a portable cupboard on wheels. The benefits to these styles is that the shelving units can be adjusted to allow for stacking blankets, bed pads and other heavier types of items on any shelf. They are also ideal for the thicker bath towels that are often heavily used in patient rooms. Staff can quickly locate the various linens on the cart by the specific configuration. In larger facilities a standard configuration of the shelving is typically used to keep items consistently stored within the shelves.
Some carts offer a variety of different storage options by having dividers through the body of the cart. Typically this includes two longer compartments on each end of the cart and one narrower compartment in the middle. The shelves in each compartment are independently adjustable so you can customize each compartment for specific types of linen. The narrower central compartment is perfect for smaller linens such as face clothes, hand towels and pillow covers. This also helps to keep everything neatly stacked and in place when the cart is being moved. For environments where multiple types of linens are used this is an important consideration. The smaller and larger shelves can also be used to keep laundry from different rooms or areas separate.
From the configuration of the shelf to the overall design there are choices for the construction materials used in the laundry cart. With sanitation so important popular choices are easy to clean as well as resistant to rust, mold or contamination are the best options. Having the shelves, covers and frames all made of easy to clean materials should be a major factor for any type of use. The most popular materials include fiberglass, aluminum, stainless steel and, for the open types of laundry carts for soiled linens poly is a ideal choice. These carts can be sprayed, washed and dry very quickly for a short turn around time.
Linen cart materials tend to be rigid in composition, capable of carrying a significant weight while staying light and easy to maneuver over any interior floor surface. For staff that will be pushing these carts the lightweight feature combined with stability while in motion is a key factor in making a selection.