Home » Hospital & Durable Medical Equipment » Illuminated Magnifiers: Focusing on the Diagnosis » Illuminated Magnifiers: Focusing on the Diagnosis
Illuminated Magnifiers: Focusing on the Diagnosis
Item# 021-097-811
Retail Price: $617.00
Your Price: $546.71
Unit:
single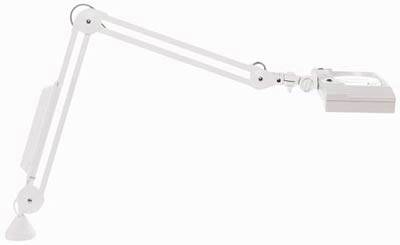 Item# W25MWBUR
Retail Price: $640.93
Your Price: $561.09
ships w/i 5-10 days
Unit:
single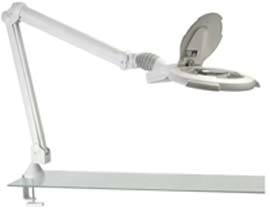 Item# XW06MEBUR
Retail Price: $640.93
Your Price: $561.09
ships w/i 5-10 days
Unit:
single
For top of the line illuminated magnifier look no further than our online inventory. We update our catalogue daily in order to help doctors, clinicians, and nursing staff alike find the highest quality and most cost competitive illuminated magnifiers in today's medical marketplace. We feature hand held, floorstand magnifiers, and wall mounted magnifiers in a wide array of luminosities, designs, and diopters. For versatility, reliability, and optimum mobility, our illuminated magnifiers are simply unbeatable.

For precise examinations that require UV light we carry hand held illuminated magnifiers ideal for skin and eye examinations. These instruments are so superior in both illumination and magnification that criminal investigators and industrial inspectors occasionally buy from us as well! One of our top models- the UV Handheld Light (HLL-404) w/ Magnification - features a UV handheld light with superior bulb protection. Its built-in cover prevents direct exposure to UV radiation, and its 4-diopter lens provides superior magnification for close inspections. This unit brings added value to the examination table with its lightweight design, competitive cost, and plug-in ballast that maximizes portability. If you prefer illuminated magnifiers with ring designs, consider our RING Handheld Magnifier (DL-122) model designed especially for dermatology and skin cancer detection. You can count on this amazing unit to provide you with the highest quality in color rendition and magnification with a 12-diopter lens that will enable you to scan all areas of the body- thus giving your patient the best possible opportunity for an early diagnosis. This illuminated magnifier comes with a long 7' 6" cord and a 3-year factory warranty.
If you are need an illuminated magnifier with a floor mount or a wall mount we have several optimal models from which you can choose. We highly recommend the Omnivue 27W to those requiring true color rendering, shadow-reduction, and flicker-free operation. This sturdy illuminated magnifier features a 35in arm that rotates on a ball joint mechanism for stable movement and placement. The 5000K bulbs provide optimal true color rendering in a 6.25in X 4.25in viewing area. You can enhance the standard 3-diopter magnification factor with an included snap-in lens that increases from 7-15 diopters for a variety of examination needs. While online, take a good look as well at our RING Magnifier Wall Mount (RLLE-122) and our Wave Plus Flourescent Magnifier. These models come in both floor mount and wall mount designs. The RING Magnifier Wall Mount (RLLE-122) illuminated magnifier gives you flicker-free, energy efficient illumination with a perfectly balanced spring-loaded arm ideal for cosmetic and dermatology procedures. The 4-diopter lens magnifies at a 33% higher factor than other ring magnifiers and includes a protective lens cap. If you need a unit with a mobile base we recommend our Wave Plus Flourescent Magnifier model. The quick start mechanism provides instantaneous, shadow-free lighting from two independent lights sources you can operate separately or together. Both the RING magnifier and Wave Plus magnifiers come in wall mount models as well.
MSEC remains dedicated to providing the very best and the very latest in medical supplies and equipment. We never cease to be on the lookout for the latest innovation that will benefit both our many clients and the patients they dedicate their lives to caring for. If you have any difficulty finding your choices in our vast inventory, call our customer service at 1-877-706-4480 to speed up your order or to make a special request. We are always happy to help you.