Home » Hospital & Durable Medical Equipment » Innovative Surgical & Exam Lighting Delivers Optimal Illumination » Innovative Surgical & Exam Lighting Delivers Optimal Illumination
Innovative Surgical & Exam Lighting Delivers Optimal Illumination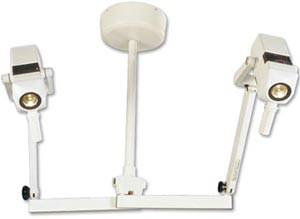 Item# CD613SCBUR
Retail Price: $5,676.50
Your Price: $4,664.21
ships w/i 5-10 days
Unit:
single

Item# XCDXPABUR
Retail Price: $22,898.69
Your Price: $19,729.74
ships w/i 5-10 days
Unit:
single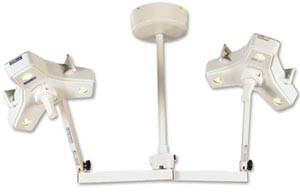 Item# XCD612POBUR
Retail Price: $4,969.89
Your Price: $4,206.32
ships w/i 5-10 days
Unit:
single
Selecting the Optimal Lighting
The lighting called '
surgical & exam lighting
' is actually used in a variety of medical facilities. They include hospitals, clinics, physician offices, free-standing surgical centers, emergency care facilities and even veterinary hospitals. Portable procedure lights can also be used in remote locations. The lighting selected needs to fit the space while providing the right amount of illumination for the particular type of medical examinations typically conducted. Larger facilities, like hospitals, are likely to need a variety of lighting because they perform surgeries, examine patients in their rooms, conduct patient examinations in different facility departments and so on.
There are many factors to consider when ready to purchase surgical lighting or procedure lights.
Space available - Space influences light placement. A ceiling or wall mounted light may be the most practical lighting, keeping floor space free. However, if there is a need for movable lighting, the floor stand light is a better option.
Type of procedures requiring lighting – Some procedures require deep cavity searches versus surface examinations. Surgical lighting is designed specifically for minor surgery versus major surgery, or a light procedure examination versus an in-depth examination. The reason there are so many lighting options is that there are so many types of medical procedures. Sometimes lighting needs to have a wide field of light, but other times the light needs to be focused on a particular spot
Type of lighting – Most surgical lighting and medical examination lights today use halogen bulbs or LED lights. The lighting will have a Color Rendering Index (CRI) which refers to the ability of a light to show colors realistically or similar to how the colors would appear in natural light or incandescent light. The highest CRI is 100, and the nearer a light's CRI to 100, the more natural colors will appear. Shadow control and the amount of glare the light produces are additional factors to consider.
Lighting will also have a Kelvin (K) rating which is a measure of the light appearance or color temperature on a scale of 1,000-10,000. The color temperature refers to the amount of difference between a true white color and the red, yellow and blue colors in a light. Lights cover a range of warm to cool. For example, a 3700 K color temperature is a natural white or softer white light.
Mobility– Mobility refers to the ability to easily move the light. Some floorstand lights have wheels for easy placement.
Arm flexibility – Floorstand and mounted lights have some degree of flexibility. Ideally, the arm moves up and down and in a parallel motion. The floorstand arm is flexible and easily shifted to shine on the desired spot. Mounted lights are also flexible and have knobs that make it easy to move the arms.
Heat production – High-quality lights have a heat absorbing dichroic filter so the light does not get too hot and present a safety hazard.
Light features – Floorstand lamps are made in different heights. Concerning all lighting, there are different lamp head sizes, volts, wattages, bulb life, diameter of the light's viewing area and CE marking to consider. CE marking is a quality designation, indicating the device meets the manufacturer's claims and is safe to use for the intended purpose.
Budget – Lamps vary in price depending on the number and type of features. Prices range from as low as $50 to $4,000 or more. Hospitals purchasing a large number of lights can usually request a volume discount.
Warranty – All lights should have at least a manufacturer's limited warranty. Extended warranties are available on higher priced lights.
Quality in lighting is important to ensure it performs as expected. For example, the lighting arms need to remain positioned when moved, the lighting should be flicker-free and the construction should be durable.
Designs to Meet Different Needs
The types of procedure lights vary to accommodate different facility physical configurations and to accommodate the needs of medical personnel. The types of lighting designs include:
Ceiling or wall mounted lights – There are single or double mount lights. Light options include small fields of illumination for close medical examinations or a larger field of illumination for general surgery.
Floorstand lights – Floorstand lights are exactly what the name implies. They have a base with an attached pole and a flexible neck. They are manufactured with or without magnifiers.
Hand held light magnifier light – These are portable lights for examinations. There are general use hand held lights, and models made for specific purposes, like the portable ultra-violet wood lamp for head lice diagnosis or other types of infestations, infections, skin injuries, etc. Handheld lights are also manufactured for lightweight medical examinations.
Mounted gooseneck lamp – This is an LED light designed to mount on a counter or other examination table for lighting a small area. It is ideal for use in small or confined spaces too.
Headlights – Some companies sell surgical and examination headlights. The fiber optic or LED lights are attached to a head strap and worn on the head.
Recessed – There are also recessed surgical lights sold which are lights installed in walls or ceilings.
These are just some of the factors to consider when choosing lighting for medical uses.
Understanding the Specifications
There is a wide range of lighting specifications or options. Following is a summary of some of the primary specifications to keep in mind when selecting lighting.
Floorstand models – Models are made with adjustable heights of 30-70 inches. This model has a movable flexible arm and a 6.5-inch diameter or larger circular viewing area.
Mounted models – Models include a single or double light that can be hung on the ceiling or wall. It is ideal for rooms with limited floor space.
Bulbs – Depending on the light selected, bulbs range from single 22-watts to three 50-watt halogen bulbs. Bulb life ranges from 2,000-10,000 hours.
Lux and Lumen – Lux is a unit of measurement of light level intensity in an area. Lux also varies, depending on the light chosen. Higher priced surgical lighting can have as much as 120,000 lux on a 24-inch diameter bulb. Lumens are the amount of radiated light, a specification found in smaller lights. The gooseneck lamp LED light produces 200 lumens.
Cool operation – To prevent overheating, high-quality lights have heat-filters and dichroic coatings. Dichroic coatings perform like filters, reflecting light to keep the light and the surrounding area cool.
Optional features – Floorstand lights may come with a footswitch for hands-free operation, locking casters, cord wrap and/or ventilated parabolic shade. To keep the equipment clean, some floodlight and mounted models can accommodate accessories like disposable handle covers which eliminate the need to sterilize handles in an autoclave.
Voltage - Other than the handheld lights, voltage models include 115V, 120V, and 230V. Handheld ultraviolet lights use small UV bulbs, like 2V.
High-quality lights are UL and IEC certified. UL is the acronym for Underwriter's Laboratory, and IEC is the acronym for the International Electrotechnical Commission. The UL certification ensures a product meets industry-wide standards, including safety requirements. The IEC certification is an international standards rating for electrical and electronic technologies. In California, there are other codes the lights should meet, including the California Seismic Code. The CAS Group also certifies products as meeting performance and safety standards.
Choosing Quality, Value and Reliability
No matter which surgical lighting or medical examination lighting selected, it needs to have certain qualities. The lighting should be state-of-the-art, reliable, high performance and durable. The appropriate lighting plays a big role in ensuring medical personnel is able to deliver high-quality patient care services with less chance of errors.
MSEC offers many surgical & exam lighting options to meet the needs of physicians and other medical personnel. We offer certified lighting that meets or exceeds industry standards and offers high performance, whether it is lighting in a small examination room or operating room lighting. Our staff is always available to answer questions and assist with the lighting selection process. Please call customer service at 1-877-4480 at your earliest convenience to discuss your needs.