Home » Hospital & Durable Medical Equipment » Lighted Magnifiers Bring You in Out of the Dark » Lighted Magnifiers Bring You in Out of the Dark
Lighted Magnifiers Bring You in Out of the Dark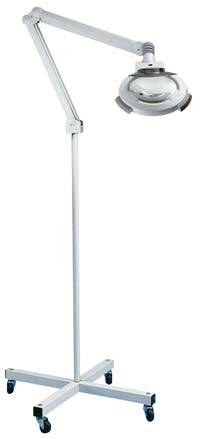 Item# XLF06MEBUR
Retail Price: $852.69
Your Price: $733.33
ships w/i 5-10 days
Unit:
single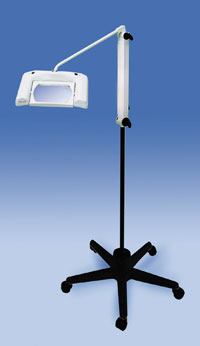 Item# 011-097-811
Retail Price: $796.76
Your Price: $696.84
Unit:
single
Item# 011-244-831
Retail Price: $663.95
Your Price: $577.28
Unit:
single
Regardless of your clinical environment or practice specialty, MSEC has everything you need when it comes to lighted magnifiers. We make it a matter of policy to inventory only the highest quality lighted magnifiers that combine today's latest technology with the most durable materials and affordable prices. We want you to find exactly what you need, and should you have any questions we stand ready by the phone when you call 877-706-4480. We carry both floor mounted and wall mounted lighted magnifiers in a variety of wattages, arm lengths, and light output capacities. Our lighted magnifiers are manufactured from the highest quality materials and combine the best in durability with optimal reproduction of the visible spectrum to maximize patient care visibility requirements.
If you searched today for floor mounted lighted magnifiers look no further than our online inventory, where you will find top of the line models such as the Wave Plus Floorstand Magnifier. This model features two lights sources capable of independent operation and is ideal for situations that require fine-tuned lighting adjustments. For immediate light output, the Wave Plus Floorstand Magnifier offers a quick start mechanism that instantly brings light to the table. It features as well the large 6.5 X 4", 3.5-diopter rectangular lighted magnifier preferred by so many doctors and nurses along with two 13-Watt bulbs for shadow reduction. The arm provides health care professionals with quick, easy movement without distraction or loss of beam focus. If you are looking to combine durability with distortion free optics of up to 15 diopters, then consider the Omnivue 27W Floorstand Magnifier. This lighted magnifier has become so popular it has set a global standard for its specialized drift free arm system that combines free mobility with light beam placement precision. For the very best in luminosity and shadow-reduction, the OmnivueMax employs three 9-Watt fluorescent bulbs that provide true color rendering. It features electronic ballast for flicker-free operation and rotates on a ball joint for precise and stable movements. The 43" arm reach and 6.5" X 4.25" viewing area makes this lighted magnifier ideal for positioning a large amount of light precisely where needed. Both the OmnivueMax and Wave Plus come with 3-year commercial lighting manufacturer warranties.
Our online inventory also carries a replete selection of wall mounted lighted magnifier. Consider if you will the Omnivue 27W wall mount magnifier model. It features the same drift free arm system and viewing area as its floor mounted counterpart. This lighted magnifier is ideal for both Wave Plus Flourescent Magnifier but your requirements demand a wall mounted lighted magnifier. We carry the Wave Plus in this design as well, giving you the same large rectangular viewing area, 3-year warranty, and dual light source functionality as its floor mount equivalent.
MSEC remains dedicated to providing the very best and the very latest in medical supplies and equipment. We never cease to be on the lookout for the latest innovation that will benefit both our many clients and the patients they dedicate their lives to caring for. If you have any difficulty finding your choices in our vast inventory, call our customer service at 1-877-706-4480 to speed up your order or to make a special request. We are always happy to help you.