Home » Hospital & Durable Medical Equipment » Medical Carts » Medical Carts
Medical Carts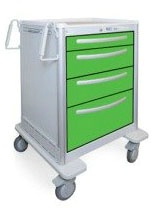 Item# T-9663-AKGMUWLH
Retail Price: $2,597.52
Your Price: $2,112.50
ships w/i 10-20 days
Unit:
single
Item# K6-03VHRF
Retail Price: $1,817.85
Your Price: $1,379.14
ships w/i 10-20 days
Unit:
single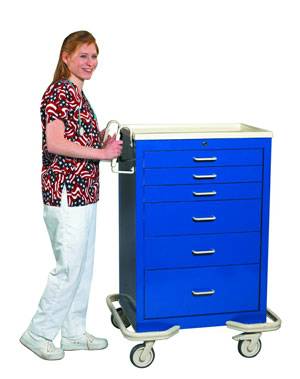 Item# X-036-SKMMPD
Retail Price: $2,856.65
Your Price: $1,888.41
Unit:
single
Medical carts are necessary fixtures in any healthcare environment. Todays market offers a vast inventory of medical carts that will fit any treatment and exam area. Medical carts are designed to be highly versatile. From medical equipment carts, medical supply carts, anesthesia carts, medical utility carts, to mobile medical carts and medical storage carts your facility needs are customized into the cart you purchase.
There are many factors to consider before purchasing medical carts. The primary factor to consider is the purpose of the cart. Do you need a cart to store anesthetics? Do you need a cart for instrument storage? How about storing medical records, medications, and/or equipment? If security is an issue, you may need a unit that locks. You will need a cart with locks on doors and drawers. Do you need a unit that is mobile or stationary? What material do you need your cart to be made of? Hospital carts are constructed of stainless steel, industrial strength aluminum, and units of heavy-duty plastic. The aesthetic appeal of your medical carts can be just as important as their utility. This is why many of our modular units can be ordered with a wide variety of color options to coordinate with the surroundings of your professional healthcare environment.
Comparing the different models is easy, quick, and convenient. Before making your final decision on the specific cart or carts you need to purchase, it will be useful to consider our line of Medical Cart Accessories. No one wants to be caught short-handed without the proper and necessary accessories during a patient exam or while treating a patient. Therefore, there is a wide variety of accessories to consider. Wire Basket Chart Holders attach to the side of the cart keeping medical charts at the tips of your fingers. Collapsible shelves and a variety of dividers and a variety of trays will keep all of your supplies in a specific order. There are glove box holders to consider, whick are convienent in fast paced emergency environments. IV Poles, Oxygen Tank Brackets, Railings, Trellis Systems, and even Coat Racks are availabe accessories. There are Push Handles to account for, as well as Utility Hooks, Utility Receptacles, Waste Containers, and Utility Baskets. These accessories will make the healthcare experience easy, convenient, and efficient while keeping the healthcare professional well organized, prepared, clean, and neat.