Home » Hospital & Durable Medical Equipment » Medical Office Cabinets: Versatility in Modern Healthcare Environments » Medical Office Cabinets: Versatility in Modern Healthcare Environments
Medical Office Cabinets: Versatility in Modern Healthcare Environments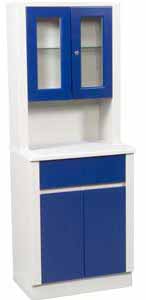 Item# 0316UMF
Retail Price: $2,551.26
Your Price: $1,965.00
Unit:
single
Item# 5016UMF
Retail Price: $1,592.24
Your Price: $1,189.69
Unit:
single
We carry a vast and versatile inventory of medical cabinets to entirely furnish your office, exam room, treatment room, operating room, storage area, and more. Our product line of cabinets is completely modular, allowing you the flexibility of choosing storage cabinets, medical filing cabinets, wall cabinets, supply cabinets, narcotic cabinets, cabinets with sinks, or any cabinetry unit that will fit your specific requirements and match the décor of your different rooms. To complement your cabinets, we also supply a wide array of furnishings to complete your professional setting while improving its functionality, operation, and appearance.
Though we provide numerous hospital cabinets with different design features and functions, there are some standard design features all cabinets have in common. Every cabinet in our inventory features all steel, heavy duty construction. Unless otherwise specified, the bodies, doors, drawer fronts, and shelves are constructed of either 18 gauge or 20 gauge steel. They are easy to install, come in an array of designer colors, and have tapered finger tip pulls on drawers and doors. For color modifications, the drawer and door fronts are easy to change.There are many options to consider before purchasing your cabinets. Be sure to consider your wall space and floor space. Whatever those dimensions are, we have units to fit your specifications. As for the specific units themselves, options to consider are locking doors, locking drawers, glass doors, steel shelves, glass shelves, mobile units, corner units, and units with sinks. We also supply units designed for desks, tables, and bedsides.
One of the more popular cabinets we supply is our line of base medical cabinets. These units are 36.75" high with 18" deep countertops. They also feature a 4" backsplash. These units come in different sizes ranging from 18" to 36" in length. They come with 4 drawers or 2 drawers with 2 adjustable shelves. These units also come in corner units. A convenient option for all base units to consider is the addition of a sink. All sinks are manufactured from stainless steel and have the following dimensions: W12" x L10" x D5". They feature a stopper basket, a chrome plated gooseneck faucet, and wrist blade handles. All base cabinets also feature leveling glides to ensure stable, safe, and secure use.

One of the most important security items in the exam room or treatment room is the narcotic cabinets. Healthcare professionals know there is no substitute for faulty locks, amateur welding, or second-rate construction of narcotic cabinets. We understand this more than anybody, which is why our inventory is trusted by medical professionals nationwide to be made with expert craftsmanship. The units in our inventory provide the industrial strength, durability, versatility, and economic value unmatched in the marketplace. Beyond these undeniably important factors, we also provide units constructed with your aesthetic tastes in mind. Depending on your preferences, we can provide all painted steel models in stainless steel models.There is a medical cabinet in our inventory for any purpose and design you need. We carry medical storage and supply cabinets, display cabinets, records cabinets, and filing cabinets. We also carry treatment and instrument cabinets, desk units, and EKG carts. Take a moment to browse our on line inventory and you'll discover that we have your solution to all of your cabinetry needs.
MSEC remains dedicated to providing the very best and the very latest in medical supplies and equipment. We never cease to be on the lookout for the latest innovation that will benefit both our many clients and the patients they dedicate their lives to caring for. If you have any difficulty finding your choices in our vast inventory, call our customer service at 1-877-706-4480 to speed up your order or to make a special request. We are always happy to help you.