Home » Hospital & Durable Medical Equipment » The Benefits of a Stainless Steel Portable Sink » The Benefits of a Stainless Steel Portable Sink
The Benefits of a Stainless Steel Portable Sink
Item# N1S-KWRPSEOZR
Retail Price: $3,921.05
Your Price: $3,142.45
ships w/i 5-10 days
Unit:
single
Item# N3SS-SS-KWSLSEOZR
Retail Price: $3,852.95
Your Price: $3,040.59
ships w/i 5-10 days
Unit:
single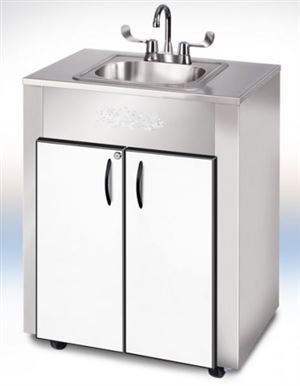 Item# N1S-KWSLSEOZR
Retail Price: $3,121.87
Your Price: $2,675.65
ships w/i 5-10 days
Unit:
single

There are so many different uses for a stainless steel portable sink in the workplace, in a school, at a daycare, or in the home. There are also a huge range of different styles of cabinets, accessories and basin styles so you are sure to find just the combination to make your life easier. Having a sink anywhere that you need running water for hand washing and general use is a great decision. It not only makes life so much easier, but it also helps to prevent the spread of germs that is associated with poor hand washing practices.

Stainless steel portable sink units are designed to be highly practical. The different sizes of cabinets and basins make these ideal for small spaces, when in use and when they are stored. Of course, once you get used to having water available everywhere you need it, you will find that storage will not be a problem. It will be easy to find a place to use the sink on a regular basis.
For the workplace, a stainless steel portable sink is a great addition to the workroom floor or anywhere else in the office for that matter. All you need is an electrical outlet to run the on demand water heater and pump and you are ready to go. There is no need for access to water or sewer lines; everything is self-contained within the portable sink cabinet. A designated grey water container collects waste water from the sink and allows you to dispose of it appropriately. The fresh water reservoir and waste water container are the same size, so you do not have to worry about overflowing the waste container. You can also have additional fresh and grey water containers on hand if you have a very busy hand washing station.
Stainless steel portable sink options are great additions for the home mechanic or handyperson. Imagine how nice it would be to be able to wash your hands between projects or to wash before having to try to get into the house with dirty or greasy hands. Since a stainless steel portable sink is very resistant to staining, chemicals, and rusting, it is a perfect option for those extra-grimy hand washing situations. The on demand hot water system also means that you don't have to constantly keep the heater on to have immediately available hot water. This not only saves money on electrical bills but it is also a boon to the environment.
The stainless steel portable sink itself can be ordered in a variety of styles. There is a larger single basin option that can be standard in size which is 12 inches wide by 10 inches in length and 5 ¾ inches deep. A single deep basin option features a bigger sink measuring an additional two inches in width and gives you four more inches of basin depth. There are also dual and triple basin options feature two or three basins per unit. It is important to note that although the multiple basin stations allow for multiple simultaneous users, the basin dimensions are noticeably smaller than those on the single basin units.
Stainless steel portable sink basins are easy to clean and will stay looking new for years and years to come. A quick spray with an antibacterial cleaner and a wipe down with a damp cloth is all you will need to keep your sink in top condition.