Home » Hospital & Durable Medical Equipment » Companion Wheelchairs » Companion Wheelchairs
Companion Wheelchairs
Item# L-N-G-SM-22CASIPU
Retail Price: $1,195.37
Your Price: $938.57
Unit:
single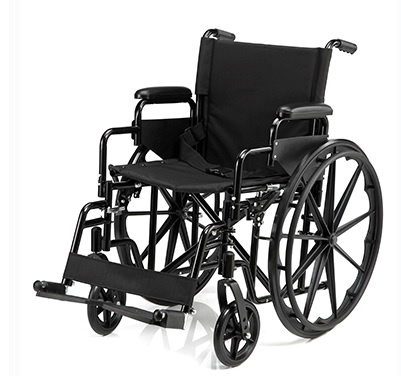 Item# 424NMHP
Retail Price: $599.00
Your Price: $210.00
Unit:
single
Companion wheelchairs are essential for patients with limited mobility but whose lifestyles keep them on the go. Companion wheelchairs are very light, effortless to fold, they're compact, and easy to maneuver. This makes companion wheelchairs the optimal choice for multiple modes of traveling as well as storage. Nonetheless, though these factors make companion wheelchairs premium choices when compared to standard manual wheelchairs, our inventory of companion wheelchairs are uncompromised in state of the art construction, modern design, versatility, mobility, and comfort. The companion wheelchairs in our inventory are engineered with the best that modern science and technology have to offer. Whether you're a patient, home healthcare provider, or healthcare professional, our line of superior companion wheelchairs will provide easy and smooth transportation wherever anyone will need it. If you've been searching for the best companion wheelchairs in the industry, look no further than Medical Supplies and Equipment Company.
The Travel-Lite Premium transporter combines an ultra light, 19 pound frame with an exclusive rollator style braking system. These factors establish this companion wheelchair as an industry leader for superior performance. Included with this model are standard features such as an adjustable height back support, feather release swing back arms, heel loops, and cushioned lightweight breathable upholstery.
The dependable Travel-Lite Ultra Light transporter is ideal for an elderly spouse or a nurse who is required to push a patient for long periods of time. This 19 pound companion wheelchair is designed to make such sustained use easy for the operator to handle and at the same time provide uncompromised comfort for the patient. The durable lightweight frame features an attractive metallic blue coating. Standard features on this model include cushioned lightweight breathable upholstery and a foldable hinged back that will provide easy storage during travel.
The Travel-Lite Companion is a popular choice for a companion wheelchair because it's designed to be a low maintenance transporter and features a competitive economical price. Standard design features of this model include a durable carbon steel frame and 8 inch casters with state of the art sealed bearings. It also features padded lightweight breathable upholstery and padded full length armrests. The Travel-Lite Companion also comes standard with an easy foldable hinged back designed to make traveling and storage as convenient as possible.
The decision to purchase any particular wheelchair over another is based on many independent factors. Depending on the patient's lifestyle, physical needs, strength, function, environment, physical dimensions, and budget, certain wheelchairs will be more appropriate than others. We have designed our on line catalog to be convenient to navigate and easy to understand so the consumer can easily distinguish the many options and features each model carries. At Medical Supplies and Equipment Company, our goal is to help the consumer make wise and informed decisions when it comes to purchasing any piece of equipment and supply from our on line catalog. Keep in mind that we have expert and friendly staff that will be happy to assist you in any way.
After browsing our on line inventory of companion wheelchairs and wheelchair accessories, please don't hesitate to call our customer service department toll free at 1-877-706-4480 for any questions or assistance.