Home » Hospital & Durable Medical Equipment » Manual Wheelchairs Offering Freedom To Move Around » Manual Wheelchairs Offering Freedom To Move Around
Manual Wheelchairs Offering Freedom To Move Around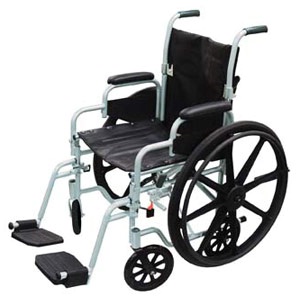 Item# 81RTDRV
Retail Price: $505.14
Your Price: $371.79
Unit:
single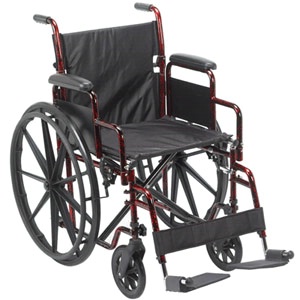 Item# FS-ADD81BERLTRDRV
Retail Price: $397.32
Your Price: $290.44
Unit:
single
Item# FS-ADD612PSSDRV
Retail Price: $388.54
Your Price: $264.91
Unit:
single
The decision to purchase a specific manual wheelchair over another is contingent on multiple factors. Depending on the patient's lifestyle, physical needs, strength, function, environment, physical dimensions, and budget, certain manual wheelchairs will be more appropriate than others. We carry an extensive on line inventory of manual wheelchairs that encompass all of these factors. From lightweight wheelchairs, companion wheelchairs, reclining wheelchairs, bariatric wheelchairs, standard wheelchairs, heavy duty wheelchairs, and hemi wheelchairs, we can supply the perfect manual wheelchair model for any patient.
Manual wheelchairs have been in existence for thousands of years. Though no one knows when or where the first manual wheelchair was made, the earliest representation of a wheeled chair is found on an engraving dating from 525 A.D. The modern manual wheelchair was initially developed in the early 1930's by Herbert A. Everest and Harry C. Jennings. Wheelchairs have come a long way since then and today they incorporate all that science and technology have to offer. The most important innovations have been in the realms of comfort and mobility.
The manual wheelchairs in our inventory are designed with all the modern conveniences that science and technology have made possible. From state of the art heavy duty engineering, to welding, materials, braking systems, tires, wheels, to components and accessories, there is no compromise to the quality construction and design that our supply of manual wheelchairs offers.The models in our lightweight category are designed for easy locomotion and maneuverability for both solo and assisted operation. These durable, low maintenance, lightweight wheelchairs are the best value for high quality craftsmanship and sporty design.The manual wheelchairs in our bariatric category are specially designed for the larger patient. They are constructed with extra strength components to withstand long term use with minimal maintenance. They feature heavy duty wheels with airless pneumatic tires. These models offer maximum reliability and comfort for larger patients.The standard models in our inventory are uncompromised in design, quality, and economic value. They are constructed with carbon steel frames and flame retardant upholstery. They are by far the strongest standard manual wheelchairs on the market and perfect for use as rentals and use for management contracts and nursing homes.Our inventory also includes heavy duty models. These models are constructed with extra strength components, reinforced frames, and double cross bracings. They also feature heavy duty wheels with airless pneumatic tires for extended, dependable use by the larger patient.The hemi models in our on line inventory are designed to meet the most demanding of wheelchair specifications. They feature dual rear axle positions, hemi swingaway front riggings, and double embossed upholstery.
Our catalog of recliner models are engineered to provide optimal dependability, comfort, and durability for long term rehabilitation. Designed with aerospace grade reclining cylinders, these models are sure to provide safe and smooth reclining.

The companion models in our inventory are specially designed for super light and compact use for traveling and alternate applications in lieu of standard models. They are easy to fold, require low maintenance, are durable and reliable in multiple terrains.A very important factor to consider before purchasing any wheelchair model is the patient's upper body strength. The patient must be able to push the wheelchair with sufficient power to move the device in a secure, stable, and controlled manner. If the patient's strength or dexterity is a factor, the best option is to consider our inventory of power and electric wheelchairs.
MSEC remains dedicated to providing the very best and the very latest in medical supplies and equipment. We never cease to be on the lookout for the latest innovation that will benefit both our many clients and the patients they dedicate their lives to caring for. If you have any difficulty finding your choices in our vast inventory, call our customer service at 1-877-706-4480 to speed up your order or to make a special request. We are always happy to help you.