Home » Hospital & Durable Medical Equipment » Bariatric Hospital Bed: The Low Down » Bariatric Hospital Bed: The Low Down
Bariatric Hospital Bed: The Low Down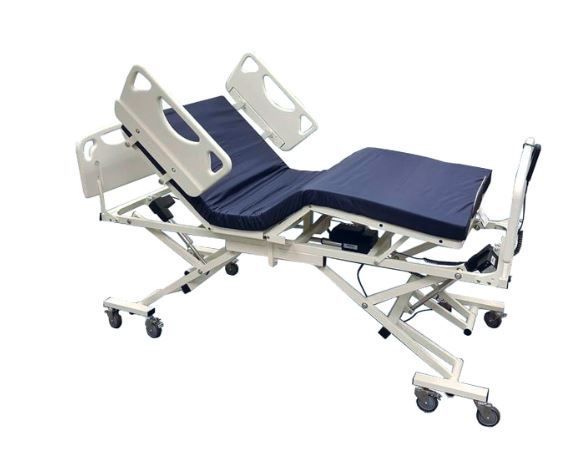 Item# RSF-F415T-2407TTUF
Retail Price: $3,825.00
Your Price: $2,450.00
Unit:
single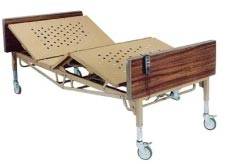 Item# RH1-VB00351DRV
Retail Price: $2,512.18
Your Price: $1,696.96
Unit:
single
Item# 0625TTUF
Retail Price: $5,920.02
Your Price: $5,175.00
Unit:
single
Bariatric Hospital Bed: The Low Down
In today's world of modern technology, it is easier to accommodate the special needs of your patients. A full electric bariatric hospital bed is one of these. Generally, a hospital bed can handle weights 400 to 450 pounds. Beds created for bariatric patients can hold up to 1000 pounds. Today, there is a greater need for a bed of this caliber. A full electric hospital bed is a necessity with larger patients. A hand crank is not logical especially with a heavy individual lying on the bed. Full electric is a must when raising a patient over 450 pounds. These larger beds are made with heavy duty materials such as chrome plated steel or reinforced steel. They are specially manufactured to be durable under a great amount of pressure. These frames are not only stronger, but they are also created with a lower deck height. Deck heights on a bariatric hospital bed ranges from 7 to 30 inches. Transporting patients in and out of a lower bed reduces risk of injury to both the patient and your staff.
The Right Fit: Not Always One Size Fits All!
Another important factor in a bariatric hospital bed are the dimensions. A basic hospital bed is generally 36 inches wide and up to 80 inches long. A bariatric bed reaches 48 to 60 inches wide and 88 inches long. This added space makes for a more comfortable patient. Following along with the larger deck, a bariatric hospital bed mattress is also customized to fit the requirements of a larger patient. A popular choice in a bariatric mattress is a low air loss, alternating pressure mattress. These mattresses prevent and treat sore ulcers common in larger patients.
Accessories Make Everything Better
Just like everything else in our life, accessories can change everything. A bariatric hospital bed also has many accessories that will make your patients stay easier. A trapeze can be added to your bariatric bed. This allows for the patient to help when repositioning them. Most beds have wheels, a bariatric bed includes heavy duty 6" locking caster wheels that can withstand heavier weights and provide increased security. Adjustable side rails can be lowered making entering and exiting the bed easier for a larger patient and assisting staff. Folding head and foot ends are available allowing easier access to your patient. The combinations are endless.