Home » Hospital & Durable Medical Equipment » Evolution of the Bariatric Hospital Bed: Keeping People of All Sizes Comfortable » Evolution of the Bariatric Hospital Bed: Keeping People of All Sizes Comfortable
Evolution of the Bariatric Hospital Bed: Keeping People of All Sizes Comfortable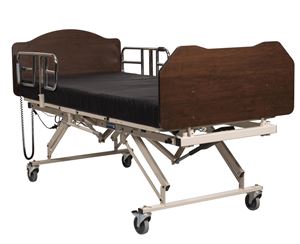 Item# BCH2463GEND
Retail Price: $4,375.00
Your Price: $2,495.89
ships w/i 5-10 days
Unit:
single
Item# DS4504GEND
Retail Price: $8,916.00
Your Price: $6,266.89
Unit:
single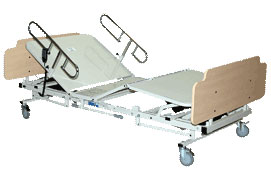 Item# X9363GEND
Retail Price: $2,475.00
Your Price: $2,260.91
ships w/i 5-10 days
Unit:
single
Evolution of the Bariatric Hospital Bed: Keeping People of All Sizes Comfortable
In 1965, the medical field began using bariatric as a way to describe people of larger sizes. In 2009, the world health organization estimated over a billion adults were classified as overweight. This worldwide epidemic makes it necessary for medical facilities to provide a bariatric hospital bed for the special needs of their bariatric patients. Not only are these larger beds necessary for the patients but also to protect hospital personnel from injuries while assisting patients in daily routine procedures.
Understanding the Necessities for Our Bariatric Patients
When looking for a bariatric hospital bed, you must consider the trials of caring for a larger patient. Larger patients have less mobility thus requiring more assistance. Utilizing the options available for bariatric patients is a necessity to keep them as comfortable as possible. As providers, we are aware of the physical strain larger patients put on our staff, but we need to also remember that lifting and moving puts strain on our patient's body too. Let's look at options that manufacturers have designed to accommodate bariatric patients.
• Side Rails – Adjust up and down to allow easy access.
• Expandable Decks – Decks on bariatric beds are expandable up to 54 inches wide and 88 inches long.
• Full Electric Lifts – This feature makes it easier for caregivers to adjust patients without risk of injury.
• Built-In Weight Scales – This feature allows for quick and easy weight measurements saving and reducing risk of injury to patients.
• Wheels / Lockable Wheels – This feature allows for a bariatric hospital bed to be moved easily or to be locked while transferring patient.
• Extra Heavy Duty Frame – These frames can accommodate a weight capacity up to 1000 pounds.
Among the many options available in a bariatric hospital bed, it is key to be aware of the added health risks that come along with bariatric patients. It will be necessary to reposition them frequently to avoid bed sores. Bariatric mattresses are also available in thicknesses that will accommodate weights up to 750 pounds. Another condition common with bariatric patients is sleep apnea. Fully electric adjustable beds are a necessity for patients who are limited in their mobility. Be sure to look at all of the options available when choosing the hospital beds for your facility. Keep your patients safe and your staff injury free!