Home » Hospital & Durable Medical Equipment » Mobile Computer Carts: Keeping you Organized While on the Go » Mobile Computer Carts: Keeping you Organized While on the Go
Mobile Computer Carts: Keeping you Organized While on the Go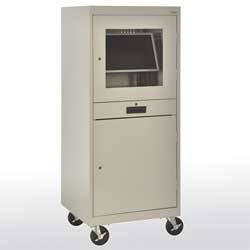 Item# X-3662GJDFSSAND
Retail Price: $779.53
Your Price: $662.14
ships w/i 5-10 days
Unit:
single
Item# 073BAM
Retail Price: $475.00
Your Price: $385.89
ships w/i 5-10 days
Unit:
single
Mobile Computer Carts: Keeping you Organized While on the Go!
Long hours seeing patients at the office makes it difficult to keep your paperwork organized. Many physicians find themselves overwhelmed with the task of reorganizing at the end of each day. A mobile computer cart can aid in this daily chore. There is an estimated annual 89 billion dollars spent on looking for misplaced items in the office among office professionals. That is an unacceptable loss of income for any organization. Mobile computer stations or carts provide a designated location for all of your electronic and hard documents allowing your day to run smoother. If your office frequently takes vital signs, your mobile computer carts can accommodate your vital sign equipment. A standard keyboard and mouse holder will allow you to properly organize your necessary equipment freeing your time to better handle the important tasks that come with running a medical facility.
Modern day computer carts are fabricated from a number of materials. The first one is a lighter molded plastic, its shelves and legs will not stain, scratch, dent or rust. This is a good choice the total weight of the cart is important to you. Another option is a powder coated painted steel frame that features a wood laminate work surface. These carts are common in emergency rooms where a computer station will be used under extreme circumstances. These high traffic operations will benefit from this heavy duty, sturdier construction. The work surface can be customized to a color of your choice. Common favorites include black, white, gray, walnut or teak providing you with a combination of colors to match your facilities current décor. Yet another option is aluminum which is necessary for facilities that provide MRI's and need equipment that is nonmagnetic. Aluminum is also efficient in environments, such as a lab, that handle corrosive materials. This construction is guaranteed to not rust, but will be slightly costlier than your other options.
Having Mobile Computer Stations Can Save You Money!
Larger facilities may struggle with finding an option that suits everyone in their office. The benefit of adding mobile computer carts to your office is that they are height adjustable and are easily adjusted for the different sizes of your staff unlike a stationary desk. Mobile computer carts adjust from 33 inches, which can accommodate a sitting position up to 45 inches for standing and everywhere in between. This feature eliminates the need for everyone to work at the same fixed level. Reducing the need to bend over reduces back injuries and keeps your staff performing at their top potential.
Many models come with heavy duty locking casters. This allows for easy maneuvering and the locking breaks allow for the station to be immobile when needed. Cord wraps or cord reels are an essential accessory with mobile computer carts, a built in safety feature for when the cart is not in use. Wheel rings can be added for easy steering, poly trays for added storage, tilting monitor arms for easier viewing and much more. Power outlets are a popular addition for computer carts. Your office will run like a well-oiled machine once you add a mobile computer cart to your facility.