Home » Hospital & Durable Medical Equipment » Important Features On Mobile Medical Computer Workstations » Important Features On Mobile Medical Computer Workstations
Important Features On Mobile Medical Computer Workstations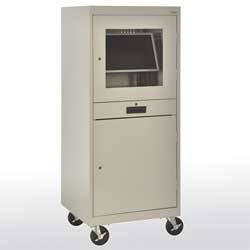 Item# X-3662GJDFSSAND
Retail Price: $779.53
Your Price: $662.14
ships w/i 5-10 days
Unit:
single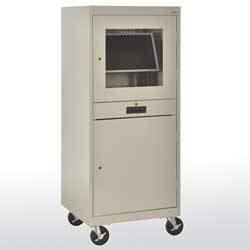 Item# X-3662GJDFSAND
Retail Price: $637.26
Your Price: $541.29
ships w/i 5-10 days
Unit:
single
Item# 073BAM
Retail Price: $475.00
Your Price: $385.89
ships w/i 5-10 days
Unit:
single
Having the ability to easily move a computer workstation to locations where it is needed rather than having staff constantly running back and forth to access or enter data is a time and energy saving piece of equipment. Mobile medical computer workstations are lightweight yet very durable and sturdy, plus they are simple to transport between conference rooms, patient examination rooms and even central nurse's stations and storage facilities.
There are many different features offered on mobile medical computer workstations to ensure the best fit of this type of equipment with the facilities needs. For hospitals, offices and clinics there are lightweight yet strong steel framed mobile medical computer workstations that can be adjusted with regards to shelf positions and heights. These mobile medical computer workstations come in several colors to match any hospital or clinic décor, plus they also have laminated shelving for easy cleaning and solid work surfaces. The approximate dimensions of this type of computer workstation are 32 1/2"W x 21"D x 35"H, making it easy to maneuver even in smaller spaces. Since the height of the shelving can be adjusted it can be set up to allow easy computer use from either a standing or seated position. A shelf at the bottom as well as over the computer worktop allows extra storage space and provides additional structure to the frame.
For mobile medical computer workstations with additional security there are fully locking cabinets that come in metal or a wood finish. These streamlined and self-contained mobile medical computer workstations provide protection for both the computer systems as well as provide additional locking storage area for patient files and other equipment or sensitive types of documents. Most of these types of locking mobile medical computer workstations will be approximately 60 inches in height and have a width of 26 inches. The front will have cabinet style doors that come together and lock, typically with the keyboard and monitor accessible from a locking top door. They have their own power bars so they just require an outlet to plug the main power bar into to operate the computer, monitor and printer or other devices. The keyboard does roll out on built in shelf to allow the operator to sit or stand to use the computer system. Ventilation in the back of the unit is designed to provide air circulation while still maintaining the security of these mobile medical computer workstations.
Mobile medical computer workstations with options of top mounted monitors and locking front doors are also a great option for clinics and hospitals. These carts typically have additional storage space in the locking cabinet area since the monitor is bracketed onto the top of the mobile medical computer workstation. Locking doors provide security for additional equipment plus they also keep the computer terminal and keyboard secure.
All mobile medical computer workstations have specially designed wheels that allow for easy rolling as well as turning. Locking brakes on at least two wheels means that the mobile medical computer workstations can be positioned and secured in place, preventing any movement during data entry or use.
MSEC remains dedicated to providing the very best and the very latest in medical supplies and equipment. We never cease to be on the lookout for the latest innovation that will benefit both our many clients and the patients they dedicate their lives to caring for. If you have any difficulty finding your choices in our vast inventory, call our customer service at 1-877-706-4480 to speed up your order or to make a special request. We are always happy to help you.