Home » Hospital & Durable Medical Equipment » Pediatric Exam Tables For Kid Friendly Exam Rooms » Pediatric Exam Tables For Kid Friendly Exam Rooms
Pediatric Exam Tables For Kid Friendly Exam Rooms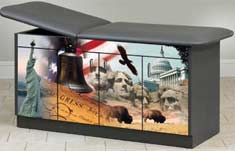 Item# 5497CLT
Retail Price: $2,654.23
Your Price: $1,756.46
Unit:
single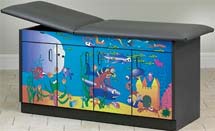 Item# 1-6397CLT
Retail Price: $2,154.23
Your Price: $1,756.46
Unit:
single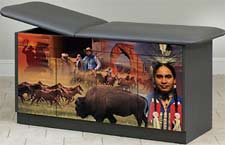 Item# 3497CLT
Retail Price: $2,654.23
Your Price: $1,756.46
Unit:
single
Making your examination room or office kid friendly is important for both patient comfort as well as making your office a welcoming place to be. Since adult sized examination tables and other office furniture isn't correctly sized for kids, choosing pediatric exam tables that make the child feel relaxed and secure is an important consideration. It also helps to choose very kid friendly design that adds color and character to your patient examination areas.
Pediatric exam tables come in a wide range of patterns and colors. Colorful cartoon designs are great for kids of all ages, plus they are excellent conversation starters to break the ice during the visit. Alley Cats and Dogs, the popular kids cartoon characters, make a great background for pediatric exam tables plus they are sure to keep kids interested in coming into the examination room. The cartoon designs are inlayed into the scratch resistant laminate, ensuring they will look bright, shiny and colorful even after years of patients hoping on and off.
For slightly older children American themed pediatric exam tables are both patriotic and beautiful, adding a touch of color and theme to the examination room. The surface is specially designed to resist wear, marks and scuffs, plus the colors are bold and bright, adding extra color to the room. Typically the examination table will have a thick, foam padding to make it a comfortable spot for children to lie down during the examination. Most pediatric exam tables will also adjust at mid-section, allowing the head and upper body to be elevated for additional comfort and ease in examination.
For a very practical option there are also pediatric exam tables that have under the table storage areas. They can have two or four doors with one or two storage compartments, ideal for keeping additional medical supplies, toys or books for children and parent to play with and read if there is any wait required. These storage areas have adjustable shelves, allow easy storage of totes or boxes for storing loose items or toys.
Standard types of pediatric exam tables offer several different colors and frame styles and colors. Most standard colors such as blue, gray, green, red and sand type colors are available for the laminate options and the upholstery comes in a wide variety of dark to light colors that blend well with the laminate options. Frames are typically gray or neutral beige colors for easy matching with the laminate and upholstery options.
As with any type of office equipment, especially in examination rooms, easy cleaning is an essential feature. The laminate and upholstery on the decorative or standard types of pediatric exam tables is designed to resist scuffs, scratches and abrasions, meaning it won't trap dirt or bacteria. In addition the smooth surfaces make cleaning easy and provide peace of mind that the office or examination area is sterile. Warranties are offered on most pediatric exam tables, typically for at least 3 years, and are an important consideration when determining which of the pediatric exam tables is best for your examination rooms.
MSEC remains dedicated to providing the very best and the very latest in medical supplies and equipment. We never cease to be on the lookout for the latest innovation that will benefit both our many clients and the patients they dedicate their lives to caring for. If you have any difficulty finding your choices in our vast inventory, call our customer service at 1-877-706-4480 to speed up your order or to make a special request. We are always happy to help you.