Home » Hospital & Durable Medical Equipment » Picking Pediatric Tables for Exam Rooms » Picking Pediatric Tables for Exam Rooms
Picking Pediatric Tables for Exam Rooms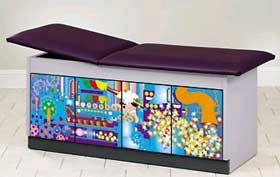 Item# 17-0737CLT
Retail Price: $2,170.00
Your Price: $1,789.26
Unit:
single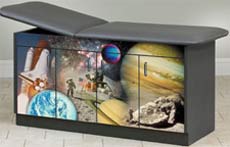 Item# 4497CLT
Retail Price: $2,654.23
Your Price: $1,756.46
Unit:
single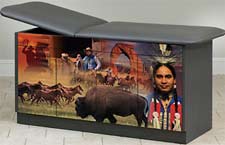 Item# 1-3497CLT
Retail Price: $2,654.23
Your Price: $1,756.46
Unit:
single
Working in the pediatric field can be very rewarding. It can also be challenging if you don't have the correct equipment, including examination tables. There are several types of pediatric tables designed with children and medical professionals in mind. Depending on the age of the children that are typically seen in your practice, one of these pediatric tables may be just what your patient examination rooms have been missing.

Themed pediatric tables are a fun option for working with younger children. From toddlers to middle schoolers, kids will love themed equipment of any type. There are some very unique and engaging types of pediatric tables out there just for this age group. Imagine how excited kids will be to get into your examination room if they get to sit on a truck examination table. The cab of the truck forms a play area where the kids can sit, then the top and back of the truck, which is a delivery van type of design, forms that actual padded top. The van part of the truck is cleverly designed as a storage cabinet, allowing you easy access to all medical supplies and equipment necessary. Safe for indoor use and PVC free construction this is a sure hit in any examination room. Another similar design is found on the Dalmatian fire truck table, complete with wheels that lock and a truck fire truck paint job and design.

If you want a more traditional look that still helps to set kids at ease consider tables that are painted in a theme. The themes, which are on the drawer and cabinet front of the tables, come in a range of styles that can be coordinated with your office colors or overall design. There are ocean, safari, rainforest, dinosaur, space and zoo themed murals that are definitely a way to get your smallest patients talking to you about their favorite things. Designed to be extremely durable as well as easy and safe to clean, these pediatric tables come with a range of features include optional adjustable backrests and different combinations of storage in the cabinets under the table top. The artwork is actually embedded into the laminate so you don't have to worry about peeling or flaking of the design. Since the surfaces are also treated to be scratch and mar resistant you can expect years of use without any signs of wear and tear.

Another option, and one that is popular in any pediatric office, is to avoid going with a theme but use bright, vibrant kid friendly colors. Brightly colored traditional pediatric tables offer a departure from the boring beige or white colors typically found on examination tables. Consider tables with yellow, red, green, or blue laminate colors that really light up the room. Scale tables that match the pediatric tables are also available for the solid cabinet option or the themed cabinets. These additional pediatric scale tables are great for working with newborns and infants with everything needed for weights and measurements handy on the table's surface or the storage areas beneath.

MSEC remains dedicated to providing the very best and the very latest in medical supplies and equipment. We never cease to be on the lookout for the latest innovation that will benefit both our many clients and the patients they dedicate their lives to caring for. If you have any difficulty finding your choices in our vast inventory, call our customer service at 1-877-706-4480 to speed up your order or to make a special request. We are always happy to help you.