Home » Hospital & Durable Medical Equipment » The Benefits of Power Examination Tables » The Benefits of Power Examination Tables
The Benefits of Power Examination Tables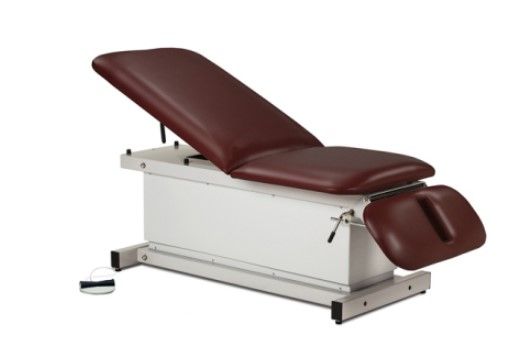 Item# 03318CLT
Retail Price: $3,696.00
Your Price: $2,843.31
Unit:
single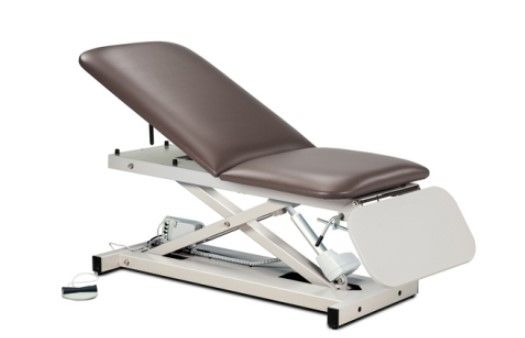 Item# 05308CLT
Retail Price: $3,071.00
Your Price: $2,251.30
Unit:
single
Item# 06308CLT
Retail Price: $3,266.00
Your Price: $2,519.27
Unit:
single
Standard flat examination tables have a lot of practical uses, and they are definitely essential in most medical facilities and settings. However, if patient comfort or the ability to position the patient in the best possible examination or treatment stance are top priorities, power exam tables are a must. These tables, which provide a range of features and options, can turn a challenging procedure or exam into a very simple and time efficient event.

Power examination tables come in a variety of styles and designs. One of the most popular options include a power lift feature that allows the doctor or medical staff to alter the height of the table. The table can be lowered for ease of transferring patients from wheelchairs or mobility devices directly to the table. In addition, patients with injuries or difficulty moving into a traditional height table will have an easier time transfering onto power examination tables. Once the patient is on the table, a foot control can be used to smoothly and effortlessly raise the table to the correct position for the exam or procedure. This is perfect for OB/GYN, podiatry, and other types of examinations.

The backrest can be adjusted to a 75 degree incline, or can be left completely horizontal. The leg rest slides under the seat component of the power exam table, and can be extended when needed to a full additional 16 inches. Stirrups are also a standard on the table and can be adjusted for length and position as required. Power examination tables can be designed to work in a right facing or left facing position, with drawers and handrails suitable placed to provide easy access without any obstruction.

Hi-Lo power examination tables are simpler in design, and highly practical in all types of examination and patient care rooms. These tables, which actually resemble a simple recliner type of chair, can include a pelvic tilt option that allows the patient to be comfortable positioned for any type of examination. The table can be lowered down to 19 inches to allow easy transfer from wheelchairs, which is similar to the option described above. The leg section can elevate up to 10 degrees on this power examination tables and there is also a power backrest that can be fully reclined or moved up into a gentle seated position.

Maximum height for these types of chairs is approximately 35 inches when fully lifted with a maximum length of about 70 inches including the leg rest extension. They are 27 inches in width on the standard model procedure table, with options for wider tables available with the larger models. The upholstered styles of power examination tables all come with a choice of upholstery colors and different table base colors. Power examination tables are carefully constructed to be comfortable to the patient. The upholstery has a seamless top, and is durable as well as water resistant. Stainless steel stirrups and drainage pans are also available for easy cleaning and sterilization.

MSEC remains dedicated to providing the very best and the very latest in medical supplies and equipment. We never cease to be on the lookout for the latest innovation that will benefit both our many clients and the patients they dedicate their lives to caring for. If you have any difficulty finding your choices in our vast inventory, call our customer service at 1-877-706-4480 to speed up your order or to make a special request. We are always happy to help you.