Home » Hospital & Durable Medical Equipment » Utility Tables » Utility Tables
Utility Tables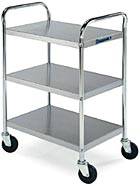 Item# 974LKE
Retail Price: $919.00
Your Price: $589.12
Unit:
single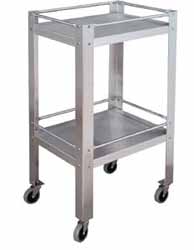 Item# 6908SSUMF
Retail Price: $1,337.02
Your Price: $916.84
Unit:
single
Utility tables are designed to provide versatility and flexibility in the healthcare environment. The utility tables in our inventory are mobile, offering extra work space and storage space. Due to their multi-purpose functionalities, utility tables have become required fixtures in hospitals, exam rooms, and surgical suites, just to name a few areas. We carry a wide selection of utility tables for you to consider. Our on-line catalog of utility tables features stainless steel utility tables and painted steel utility tables. Whatever your specialty is or your needs are, we can supply utility tables that will enhance the performance and operation of your professional healthcare practice.

The utility tables in our inventory are completely modular. This means they'll fit right in with the rest of your existing medical equipment and furniture. They will also coordinate well with the other lines of products we offer. For instance, the tables in our inventory will fit in perfectly with our broad supply of Stainless Steel Sinks, Stainless Steel Shelving, and Stainless Steel Tables. We also carry an extensive line of Modular Cabinets, Exam Tables, Utility Carts, and many more products, equipment, and furniture designed to fully equip your healthcare environment.

When deciding on the particular utility table you need, there are few options to consider. All of the models in our inventory have one feature in common: mobility. As well, the tables in our inventory are quite comparable in dimensions. They're all quite compact, offering heights of at least 30 inches, widths ranging anywhere from 20 inches to 32 inches, and lengths averaging 16 inches. However, that's where the similarities end. The differences from table to table exist in the area of optional features. Some of the optional features to consider are in the realm of drawers. We supply models with drawers and without drawers. For the tables that do include drawers, there are additional things to consider. As you will see after browsing our selection, our tables come in models featuring one drawer to four drawers. Another option to account for is shelving.

Once you have evaluated the intended purpose for your utility tables, and have accounted for your available floor space and work areas, making a well informed purchase won't be difficult. If you need any assistance with evaluating the different benefits that our tables offer, we have an expert customer service department that is willing to assist you. Once you've browsed our on-line catalog, don't hesitate to call us and we'll provide you with all the details you need to ensure a secure and wise purchase.

Whatever your specifications and intended uses may be for utility tables, we can supply the specific units that will fit your needs. Our on-line inventory is designed with all of your medical furnishings in mind. Our product line was made to match your existing furniture and/or new purchases. It is our goal to be your one-stop provider for the finest medical supplies and equipment the industry has to offer. For any questions or assistance, please call us toll free at 1-877-706-4480.