Home » Hospital & Durable Medical Equipment » Reception Room Chairs for Comfort & Style » Reception Room Chairs for Comfort & Style
Reception Room Chairs for Comfort & Style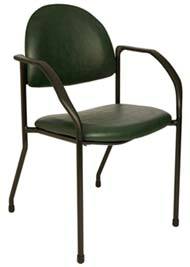 Item# 0021BWR
Retail Price: $495.26
Your Price: $377.14
ships w/i 5-10 days
Unit:
single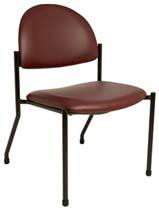 Item# 0521BWR
Retail Price: $480.03
Your Price: $347.14
ships w/i 5-10 days
Unit:
single
Choosing the right reception room chairs to add to patient comfort when waiting for appointments is more than a decorating decision. With a range of options that include different colors, weight tolerances, sizes and even the wood finish it is possible to fully customize your waiting and reception room to meet the needs of all you patients.

Comfortable reception room chairs are a must in busy practices where patients may be required to wait for a shorter or longer period for their appointment. If the patients are comfortable there are fewer complaints plus family members will be less irritable if they are required to wait for a few minutes for patients. Comfortable reception room chairs include those that have a solid cushion and solid back, plus have a thick, dense foam that is ideal for the wear and tear that these chairs will undergo.

Reception room chairs can come in a variety of styles for smaller and larger individuals. There are chairs that are rated for patients and individuals that are up to 600 pounds and others that are durable for weights of up to 800 pounds. These styles of chairs have a significantly wider seat, up to 36 inches, to comfortably and safely support patients that are larger. Having a variety of sizes of reception room chairs is a great idea so patients and guests can elect where to sit. Lower backs are common on these models but there are also higher back chair options. Both options of chairs, including those for bariatric patients, have a one year manufacturer's warranty. With mortise and tenon construction the joints are durable and very secure and can definitely withstand the rough wear they sometimes receive.

High back chairs provide great support for all patients. They are often the first choice for patients with mobility problems since they provide comfort and support the upper and lower spine. With both high and low back chairs available there is the option for patients to choose their preferred chair style. Other reception rooms may go for a more uniformed style of chairs that keeps all chair backs at the same height.

Colors of reception room chairs also vary both with regards to upholstery as well as the actual wood finish. Colors of upholstery range from neutral colors such as creams through to blues, reds, greens and muted colors like sage and ice. Chair upholstery can include one particular color throughout the reception area or it can vary from area to area or be a complimentary mix of colors. Since all upholstery can be easily cleaned and disinfected and will coordinate with the wood colors available in the particular chair style it is easy to match these furniture items with your overall office décor.

Choosing the best styles of reception room chairs for your office or waiting area is not as difficult as you may imagine. Keep in mind that a variety of chair sizes provides maximum comfort for patients and also makes your waiting area much more patient friendly.