Home » Hospital & Durable Medical Equipment » Waiting Room Chairs For Patient Comfort » Waiting Room Chairs For Patient Comfort
Waiting Room Chairs For Patient Comfort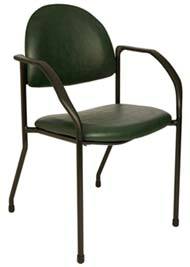 Item# 0021BWR
Retail Price: $495.26
Your Price: $377.14
ships w/i 5-10 days
Unit:
single
There is nothing worse for patients than having to sit in a waiting room. Unfortunately it is also virtually impossible for doctors or staff to predict just how long a particular patient exam will take, so typically most patients are going to have at least a brief wait before they get in to see the doctor. Making your waiting room as relaxing as possible, starting with comfortable waiting room chairs, is the first step in making that delay as positive as possible for everyone.
There are several features to keep in mind when determining practicality and comfort of waiting room chairs. The first and most obvious is the size of the waiting room and the typical number of patients that may be in the room at any one time. The smaller waiting rooms or large rooms with lots of patients will, by very logistics, require smaller waiting room chairs to seat the required number of people. Waiting room chairs without armrests may be more space saving in these higher volume or lower space types of waiting areas.
Lower backed or high backed waiting room chairs with arms are a great option for most waiting rooms that have lower volumes of patients or enough room to comfortable seat all patients. The height of the back is really a personal preference, however Victorian and classical styles of chairs will typically have the higher backs. Generally most of the low backed chairs will have standard dimensions of approximately 31 inches in height, 21.25 inches in width and 23 inches in depth. High back chairs will differ only in height, which will typically range to about 45 inches or more. Chairs for children will be much smaller to allow shorter legs and feet to rest comfortably on the floor.
Waiting room chairs can also have several other options besides just back height and arm rest options. In addition there are styles that include wall savers, ideal for areas were there are lots of people, sled base options, rockers and gliders that can all add to the choices of chairs in the waiting room. Adding a variety of different types of chairs, all with the same general style, can really add to your waiting area and help to make patients with different disabilities or needs much more comfortable.
One important consideration for many different offices and hospital waiting rooms is to have a few bariatric waiting room chairs available. These waiting room chairs are specially built and reinforced for larger individuals so they provide secure and safe seating options. They can come in a range of seat widths from 30 to 42 inches, allowing a heavier patient to comfortably sit in the waiting area without any discomfort or embarrassment.
Choosing a frame style and color as well as an upholstery style to match your office colors and décor is a great way to add to the appearance of your office. Look for waiting room chairs that are made of flame retardant materials and that are antibacterial and mildew resistant to ensure they are easy to clean and care for with minimum effort.
MSEC remains dedicated to providing the very best and the very latest in medical supplies and equipment. We never cease to be on the lookout for the latest innovation that will benefit both our many clients and the patients they dedicate their lives to caring for. If you have any difficulty finding your choices in our vast inventory, call our customer service at 1-877-706-4480 to speed up your order or to make a special request. We are always happy to help you.