Home » Hospital & Durable Medical Equipment » Ideas For Your Office: Choosing The Best Waiting Area Chair » Ideas For Your Office: Choosing The Best Waiting Area Chair
Ideas For Your Office: Choosing The Best Waiting Area Chair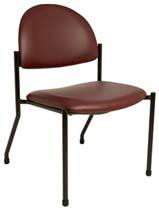 Item# 0521BWR
Retail Price: $480.03
Your Price: $347.14
ships w/i 5-10 days
Unit:
single
Many doctor's offices, dental offices or therapy waiting rooms are designed with both practical and comfortable styles. The waiting area chair styles that you select for your reception area need to be chosen with care for several reasons. First, the waiting room chair design can either be user friendly and comfortable, which sends a positive message, or it can be scuffed, old and in uncomfortable, which likewise sends a negative message.
Choosing a waiting area chair starts with thinking about the types of patients that are likely to be waiting for appointments. In busy hospital emergency rooms or clinics more functional, smaller sized waiting area chair styles make the best option. These waiting area chair models can be stacked for storage and easily moved for routine cleaning plus they are versatile enough to handle adult patients, children and also patients with mobility problems that may have difficulty getting into and out of softer types of chairs.
Wooden frames on waiting area chair styles can be used to create a warmer, less institutional look to the side arm chairs with metal frames. The wooden frames are vary durable and strong, constructed with mortise and tenon joints which can be rated to safely hold up to 800 pounds. These chairs also come in a variety of seat width sizes, perfect for bariatric patients, elderly patients that require assistance in transferring into and out of chairs or patients that have mobility problems. These larger chairs as also a big hit in family practices since young children can sit up on the chair with Mom or Dad and read a book or play with a toy while staying close to the parents.
When selecting waiting area chair options with hardwood frames you do have several customization options. You can select from a variety of different wood finishes, which can be dark, light or medium, plus you can also choose one or more upholstery colors. By staying with the same style of waiting room chair, including the frame type and upholstery color, you can create a very coordinated look. Another option is to mix and match complimentary colors of upholstery and chair styles, resulting in the ability to change the shape, look and functionality of your reception area.
A waiting area chair can also say comfort, luxury and style, especially if you select the high back models with or without wings. These chairs are hand crafted and provide the same range of options in upholstery colors and wood options. Some styles and designs are flame retardant and mildew resistant, ideal for additional safety and meeting all code requirements for medical settings.
The waiting room chair design that you select does send a message to your patients and their families. Having a coordinate, practical yet also comfortable waiting area will help to keep patients relaxed and at ease while they wait for their appointment. A variety of chair sizes also ensures that everyone will be comfortable. All you need to do is plan the area to maximize comfort, traffic flow and open space.