Home » Hospital & Durable Medical Equipment » Wheelchairs & Information » Wheelchairs & Information
Wheelchairs & Information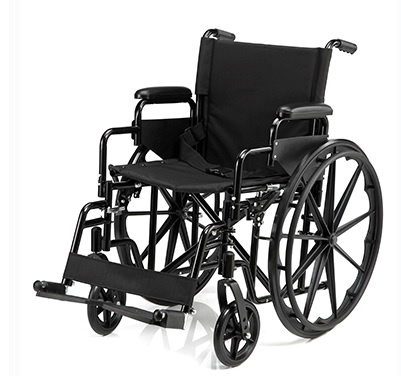 Item# 424NMHP
Retail Price: $599.00
Your Price: $210.00
Unit:
single
Item# FS-ADD612PSSDRV
Retail Price: $388.54
Your Price: $264.91
Unit:
single
Medical Supplies and Equipment - Your Wheelchair Headquarters
Extensive Line of Superior Manual and Power Wheelchairs
Wheelchairs from Leading Manufacturers
Reliable and Dependable Service on Wheelchair Orders
Convenient and Safe Online Wheelchairs Orders
Full Manufacturer Wheelchair Warranties
Discount Pricing on Top-quality Wheelchairs
Accessible Customer Service Representatives
Wheelchair Product Specialists
Privacy Assured for All Online Wheelchair Orders
Wheelchairs
Wheelchairs and electric wheelchairs are the most common medically prescribed equipment for assistance with daily mobility. With hundreds of individual wheelchair and electric wheelchair models to choose from, it is difficult to determine which is the best wheelchair for you. Our Wheelchair product specialists can help determine what wheelchair features you will need and assist you to differentiate between wheelchair and electric wheelchair model specifications. Our wheelchair product specialists can take the confusion out of the wheelchair selection process.