Home » Hospital & Durable Medical Equipment » Matching A Medical Exam Table To Your Needs » Matching A Medical Exam Table To Your Needs
Matching A Medical Exam Table To Your Needs
Item# 5855UMF
Retail Price: $2,183.04
Your Price: $1,639.09
Unit:
single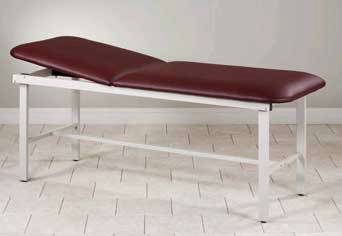 Item# 72-1038CLT
Retail Price: $601.87
Your Price: $390.41
Unit:
single
Item# 03-0101CLT
Retail Price: $687.79
Your Price: $476.61
Unit:
single
Selecting a medical exam table is not a difficult task if you take the time to decide just what features are needed to provide the best possible use of the table within the facility. Depending on the use of the table the features offered may be of value or they may be ineffective. Since features often add to the price of the equipment it doesn't make financial sense to include features that will never be used and may actually complicate the use of the table for staff or patients.
One of the first considerations when selecting a medical exam table is to consider the actual physical space in the room that is available for the equipment. In many examination rooms and emergency rooms space is at a premium. In these situations an exam/treatment table combination may be the best. These options come in a variety of different styles with everything from a three section option to multi-position model. The three section table has a center, head and foot section with optional and independent positioning of both the head and foot sections. When not in use both can be folded down. A multi-position model can be upright in a standard chair position and then can be adjusted between a level to upright position from the back to the headrest. Often the leg rest slides under the seat providing a very compact option.
Most of the standard medical exam table models will have included a paper dispenser and cutter for easy preparation between patients. This is typically contained within the unit and out of sight when not in use. For a busy exam room where multiple staff is working this is a real time saving feature. Drawers on the side of the examination table that allow for additional storage space and easy access to commonly used equipment and supplies will help staff in efficient patient care. Different configurations of storage space and the position of the doors, including which side they open to, are also important considerations when selecting between models.
Leg stirrups are important in many types of medical offices and examination rooms. Stirrups that can be positioned to the sides or extended to provide comfort and support to patients are ideal in OB/GYN offices. Additional features that can add to a patient's comfort during any type of procedure include a headrest, safety rails and sliding leg rests.
The weight capacity of medical exam table models is something that needs to be considered based on the type of practice. More offices and hospitals have one or more examination tables that are designed for bariatric patients. These tables are wider, slightly longer and are rated for significantly more weight capacity. While a standard medical exam table may have weight capacity of up to 400 pounds, a bariatric table is often designed to support 600 to 800 pounds depending on the specific model and manufacturer.
Pediatric medical exam tables are another specialized option. These smaller sized tables have all the features offered in the adult tables but are much more comfortable for kids. They often have fun designs and kid friendly themes that take the clinical look out of the exam room.
Last but certainly not least it is important to consider the options of a manual exam table versus a powered table. Having the option to move the table using a foot control allows greater conform for the doctor to position the patient at the best height for the exam or treatment. It also is a benefit to patients that need assistance in getting on and off the table without using a standard step stool. A power chair can have multiple features to smoothly position the patient at any angle while on the table, all without the need for any physical lifting or manipulation by staff.