Home » Hospital & Durable Medical Equipment » Treatment Tables for all Locations » Treatment Tables for all Locations
Treatment Tables for all Locations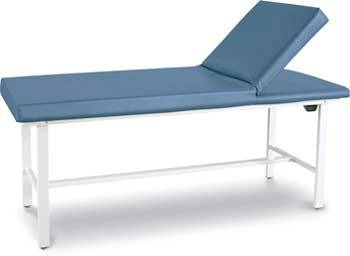 Item# 0758WIN
Retail Price: $609.82
Your Price: $530.15
Unit:
single
Item# 03-0101CLT
Retail Price: $687.79
Your Price: $476.61
Unit:
single
Item# X82BAM
Retail Price: $2,100.00
Your Price: $1,745.89
ships w/i 5-10 days
Unit:
single
While most doctors and medical professionals practice out of a hospital, clinic, office or health care facility, there are some who need medical equipment for a different setting. There are a wide range of treatment tables that are perfect as portable options, just as there are treatment tables that are ideal for clinical work. Choosing between the two should depend on your needs, in regards to mobility, portability, and space.

Portable tables are ideal for doctors and medical professionals who need to have equipment with them outside of office or healthcare settings. Sports activities, community events, races and emergency treatment centers all require the option of highly durable, highly portable treatment tables. Also known as sideline taping or sideline treatment tables, these unique types of medical tables are specially constructed for simple set up while providing a solid, sturdy table on the go. They are also easy to store since they collapse or fold down to be carried by one person. Despite their lightweight construction, these tables can be rated for patients up to 500 pounds. They are also well braced for added sturdiness. The legs on these tables telescope to allow for correct height adjustment based on individual needs. The top surface is a polymer material that is lightweight, yet very durable and easy to clean and sterilize between uses.

These portable treatment tables are designed for outdoor use, so they are water resistant as well as rust resistant. The seams are located either on the bottom of the pads of the table surface or they are sealed to prevent any damage to the padding. In addition, the tables can be equipped with field feet, which are much larger than standard table legs, allowing for support even on dirt or mud surfaces that may cause other types of tables to sink. At no more than 36 pounds, these lightweight, yet very practical tables are the perfect option for any type of out of the clinic treatment.

There are also many choices for treatment tables in the clinic. Eco-friendly options that have wooden frames are a nice addition to your patient treatment rooms, and help to make a warm, comfortable space. Of course there are also traditional metal, welded steel, or laminate surfaces available, and these can be color coordinated to match your décor. Other options include the upholstery color and the configuration of the storage compartments under the table itself. Some are an open design with just a shelf at the bottom while others include cabinets, drawers or a combination of both. Some treatment tables offer the option of a backrest that can be inclined or reclined. The leg section is also designed to be lowered or extended to allow the patient to be correctly positioned on the table for any type of procedure or treatment. These tables also have storage under the body and back sections, perfect for offices with limited closet and storage space.

MSEC remains dedicated to providing the very best and the very latest in medical supplies and equipment. We never cease to be on the lookout for the latest innovation that will benefit both our many clients and the patients they dedicate their lives to caring for. If you have any difficulty finding your choices in our vast inventory, call our customer service at 1-877-706-4480 to speed up your order or to make a special request. We are always happy to help you.