Home » Hospital & Durable Medical Equipment » Procedure Table Options for Patient Examination and Treatment » Procedure Table Options for Patient Examination and Treatment
Procedure Table Options for Patient Examination and Treatment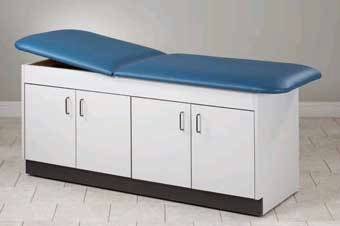 Item# 72-47098CLT
Retail Price: $1,392.26
Your Price: $1,034.29
Unit:
single
Procedure tables are one of the most frequently used pieces of equipment in any patient care facility. They are an important addition to a doctor's office examination room, emergency treatment facility, or hospital. Their versatility and unique features make these tables, which allow the patient to go from a supine position to sitting position, perfect for any type of patient treatment.

For offices where patients in wheelchairs or patients with limited mobility are often treated, a low access power table may be the best option. These specially designed exam tables allow the seat to be positioned just 24 inches off the floor, perfect for wheelchair and assisted mobility device transfers. Patients are more comfortable in moving on and off of the procedure table since it is at the same level as their wheelchair or assisted mobility equipment. However, the seat can also be raised to a maximum of 36 inches as needed for examination and treatment.

Other features of the low access power procedure table includes the ability to move the table into all positions, including the Trendelenburg position. To aid in patient comfort there is an articulating head rest as well as a power backrest, tilt, and leg section that is easily adjusted by a four function hand control. The patient experiences no sudden jolts or movements that are often problematic with manual positioning options. The entire procedure table is 71.5 inches in length when completely extended and the foot section can be operated independently of the center section for ease of positioning. The unit comes complete with built in easy glide stirrups for OB/GYN specializations.

Different tables may offer a variety of features. One model offers a low position of just 19 inches, adding even more flexibility for transfers to and from other equipment. These top of the line power procedure tables can safely support bariatric patients and are approved for use with patients up to 600 pounds. In addition many of these models have articulating headrests, perfect for comfortable positioning of the patient in all types of examination and treatment protocols. These procedure tables tend to be slightly larger overall with a length of 85 inches with both the headrest and the footrest extended, but a standard 71.5 with the headrest in the normal position and the footrest extended. The width of these tables are 27 or 28 inches, depending on the specific model selected.

There are a range of additional features offered in power procedure or exam tables. Although each model may have additional options, they all provide a drain pan that is easily removed and cleaned, upholstery colors of your choice, accessory rails at the head section of the table as well as a concealed paper roller holder within the unit itself. The surface of the upholstery is designed to be seamless on the surface, giving patients a comfortable, smooth and irritation free surface that is easy to clean and sterilize between uses.

MSEC remains dedicated to stocking the very best and the very latest in medical supplies and equipment. We never cease to be on the lookout for the latest innovation that will benefit both our many clients and the patients they dedicate their lives to caring for. If you have any difficulty finding your choices in our vast inventory, call our customer service at 1-877-706-4480 to speed up your order or to make a special request. We are always happy to help you.