Home » Hospital & Durable Medical Equipment » Medical Treatment Tables: Right Table for the Right Procedure » Medical Treatment Tables: Right Table for the Right Procedure
Medical Treatment Tables: Right Table for the Right Procedure
Item# H-03-9891
Retail Price: $763.89
Your Price: $628.57
Unit:
single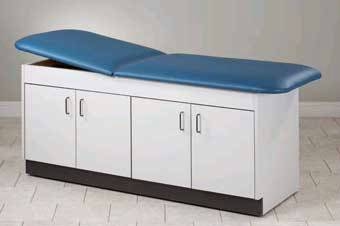 Item# 03-47098CLT
Retail Price: $1,461.71
Your Price: $1,135.71
Unit:
single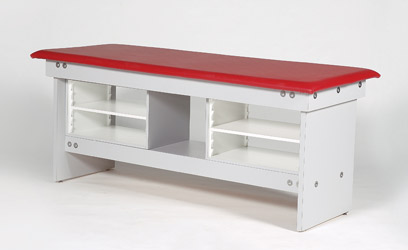 Item# ELT21MEDC
Retail Price: $1,194.88
Your Price: $943.28
Unit:
single
It is often necessary for patients to receive more than a physical examination when they visit their doctor. Patients who need to undergo some type of medical treatment benefit most when they feel comfortable, relaxed, and secure when they are either sitting or laying on a Medical Treatment Tables.
Medical Treatment Tables are built with the high quality and lasting durability that all exam tables are known for, with added features that make treating patients more centrally located into one piece of furniture. Treatment Tables are the perfect addition in most hospitals and practices to be used in a variety of exam room settings and under a variety of situations. It can easily be used, but not limited to, the treatment of Orthopedic, Cardiovascular, Sports Medicine, Scholastic Health and Institutional Health illnesses and ailments. Some designs are specifically meant to work in Obstetrics, OB/GYN, Pediatic, Phlebotomy, Phyical Therapy, bariatric or other specialty capacities, making them a much needed instrument for that specific practice.
Most Medical Treatment Tables are made of steel, and are manufactured using heavy duty construction, making them a durable and sturdy working surface during patient treatment. Medical Treatment Tables can also incorporate convenient storage drawers, shelves or cabinets into the table design, making them a one-stop solution for treating patients in hospitals or offices with limited available space. With their compact design, you will be able to treat your patients efficiently, and within close proximity to the necessary medical instruments and supplies needed to provide such treatment.
In addition to providing a secure resting place for patients who are undergoing treatment, Medical Treatment Tables perform additional functions that make treating patients easier and more thorough, no matter how small or intensive their treatment may be. Leveling glides, paper roll holders, comfort restraints, stainless steel stirrups or heavy duty slip resistant footsteps add convenience and security to the Medical Treatment Tables. Vacuum formed and seamless comfort tops guarantee patient comfort and the capacity to undergo sterilization and sanitation before and after each procedure, so you don't have to worry about cross-contamination or unsanitary conditions.
Whether you're looking for a treatment tables to perform routine procedures or intensive medical or physical therapy treatment, choose a table that offers the best in practicality and function, while providing your patients with the comfort and ease of use that they would expect from high quality medical care. No procedure is too small, and no patient is too difficult to enjoy the ease of use associated with a durable, secure and reliable Medical Treatment Table. If you're looking to provide your patients with the best medical care possible, choose furniture and accessories that represent the finest in craftsmanship and quality, like Medical Treatment and Examination Tables from Medical Supplies & Equipment Company and trust in the security that quality brings.
MSEC remains dedicated to providing the very best and the very latest in medical supplies and equipment. We never cease to be on the lookout for the latest innovation that will benefit both our many clients and the patients they dedicate their lives to caring for. If you have any difficulty finding your choices in our vast inventory, call our customer service at 1-877-706-4480 to speed up your order or to make a special request. We are always happy to help you.