Home » Hospital & Durable Medical Equipment » Adjustable Hospital Beds » Adjustable Hospital Beds
Adjustable Hospital Beds
Item# RSF-PC105-6307TTUF
Retail Price: $2,825.00
Your Price: $1,750.00
Unit:
single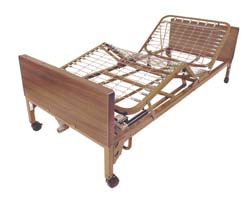 Item# 50051DRV
Retail Price: $1,638.62
Your Price: $1,295.67
Unit:
single
When you are in a position of needing special care in the hospital, nursing home, or even in your own home, there are certain items that you simply can't do without. Even in the case of being the primary caregiver to a loved one who is seriously injured or suffering from a severe illness or disease, medical supplies become very important aspects of your life in a hurry. One of the biggest things that any home needs when it has a medical patient in it is an adjustable hospital bed. Naturally, you can find these easily in the hospital, nursing home, or rehabilitation center, but most people don't have this type of furniture just lying around in most cases. Luckily, it's simple to choose the type of adjustable hospital bed that will best serve your or your loved one's needs. Take a look at some of the most commonly chosen adjustable hospital bed for a starting point in your quest for the right bed.
One of the first of the adjustable hospital beds you can expect to find in your search is the bariatric bed. This is one of the most stable you can hope to find. They are usually made to accommodate up to 600 lbs. That trait alone makes this bed a good one for just about any home medical setting. These beds are constructed with an easy to use two-piece design. They are simple to set up and operate. In the event of serious injury or illness affecting your home, the last thing you want to have to worry about is making an adjustable hospital bed work for you. With a bariatric hospital bed, you can expect to be able to care for yourself or your loved one with ease and comfort.
Another good choice for an adjustable hospital bed in your home is the fully electric hospital bed. One huge benefit to choosing this kind of bed is that it is well known for amazing durability. That is an important part of providing good care in any setting. The weight capacity for the fully electric adjustable hospital beds is up to 460 lbs. It's not uncommon for these kinds of beds to come with a lifetime warranty on the frame. The motor warranty tends to last for about a year. Of course, safety is on the mind of any concerned loved one when taking care of an ill loved one. These beds are constructed with reinforced corner plates made of welded steel. Finally, the fully electrical adjustable hospital bed is made with an UV electronic system for quiet and smooth operation.
Regardless of the kind of adjustable hospital bed you choose for your needs, it's nice to know that you can also include extras like casters and rails for easy movement and security. For long term care, you might want to consider head and foot boards for a more attractive appearance in the house. A nicer appearance just makes things more pleasant for the patient and the rest of the family as well.