Home » Hospital & Durable Medical Equipment » Rollaway Beds » Rollaway Beds
Rollaway Beds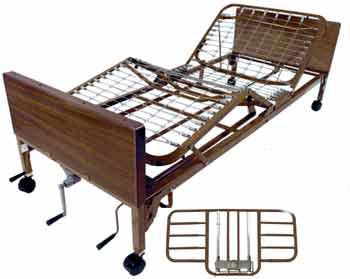 Item# RH-P30051DRV
Retail Price: $3,051.28
Your Price: $2,211.44
Unit:
single
Item# 33051DRV
Retail Price: $1,399.73
Your Price: $1,003.79
Unit:
single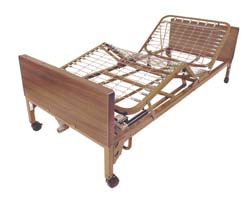 Item# 50051DRV
Retail Price: $1,638.62
Your Price: $1,295.67
Unit:
single
If your facility needs rollaway beds, bear in mind that there is no substitute for quality construction, easy maneuverability, and convenient operation. At Medical Supplies and Equipment Company, we only carry sturdy, reliable rollaway beds designed by top manufacturers of rollaway beds in the industry. Rollaway beds serve to accommodate patients, medical personnel, family members, and other people when there are insufficient accommodations in the facility. Such times when rollaway beds will be needed may include scenarios of natural disasters, when there as an influx of patients in the facility where there simply isn't enough equipment to support such an inundation of people. For such unexpected times, we carry a large inventory of folding rollaway beds that won't take up a lot of storage space and, when compared to the annoying task of setting up cots, rollaway beds will be easier to set up when needed. Speaking of cots, they're simply uncomfortable. The rollaway beds we supply are rollaway mattress beds, featuring mattresses that will provide superior comfort; something cots will never provide.
We carry a line of economical rollaway beds that will suit your budget and meet the demands of any size facility. Each bed incorporates the following features:
These durable beds are constructed with a sturdy angle steel frame and legs.
The sleep surface is helically suspended link fabric with heavy-gauge coil center support.
Legs open automatically for easy set-up.
Large 8 inch wheels and 2 inch ball bearing swivel casters allow convenient mobility.
Beds are 75 inches long.
Bed frame only.
Mattress sold separately.
Vinyl cover sold separately.
The only discrepancy these beds share is their widths. The beds we supply come in three widths: 30 inches, 39 inches, and 48 inches. Other than that, you can rely on the fact that our beds are built to the same strict specifications and will serve your facility in the same capacity through and through.
When those expecting fathers are waiting in Labor and Delivery, these beds will be an incomparable convenience. When loved ones are taking shifts as they watch their relatives recover, these beds will be an unequalled convenience. There are simply a myriad of hypothetical situations that may arise whereupon these rollaway beds will present themselves as necessary amenities. It takes no stretch of the imagination to see the possible applications these beds can have and the circumstances that may arise where they are needed. It all can be summed up in two words: The Unexpected.
To prepare for the unexpected, take a moment to evaluate our on-line cataloge of bed accessories. From disposable bedding & bed linen, to bed padding, knitted sheets, to blankets & spreads, we can supply everything you'll need to complement your beds. We have an extensive line of products that will outfit and accessorize your facility. Best of all, our items are in stock and ready to ship today. There's no need to visit a store when you have everything you need right at your fingertips. You can evaluate specs, photos, colors, and more by navigating our website. And for any information you need, we are only a phone call away. Call us today to see what MSEC can do for you.
Whatever your requirements may be for rollaway beds and accessories, it is our ultimate goal to your primary provider. Please take a moment to evaluate our entire inventory. After browsing our on-line catalogue, we invite you to call our customer service department toll-free at 1-877-706-4480 if you have any questions or need further assistance. Our medical equipment specialists are standing by to help you.