Home » Hospital & Durable Medical Equipment » Hospital Beds: Selection Guide » Hospital Beds: Selection Guide
Hospital Beds: Selection Guide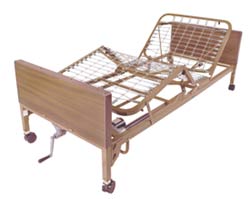 Item# 40051DRV
Retail Price: $3,148.03
Your Price: $2,503.19
Unit:
single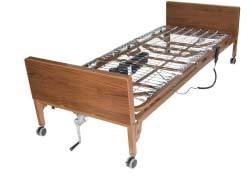 Item# 03051DRV
Retail Price: $990.60
Your Price: $800.87
Unit:
single
Item# MS3C-MMB100
Retail Price: $889.00
Your Price: $595.25
ships w/i 20-25 days
Unit:
single
From electric hospital beds, manual hospital beds, to hospital bed mattresses, rails, and accessories, there are many options to consider before making a purchase. Manual hospital beds require manpower, so for maximum convenience and comfort, electric hospital beds are the best value. To solve the dilemma of individually purchasing the many accessories to make your Electric Hospital Beds and Manual Hospital Beds complete, we offer all-inclusive packages that take into account different models, mattresses, and rails. After browsing our on-line catalog, don't hesitate to contact our expert customer service department to place your order or ask questions.
The Comfort Series Homecare Beds are manufactured with state-of-the-art components and designed to endure the test of time. There are three models to choose from. The Ultra Light Semi Electric Hospital Bed w/ Full Rails is manually operated. The Semi Electric Hospital Bed Package w/ Half Rails is semi-electric. The Full-Electric Adjustable Hospital Beds is the fully electric model and the most convenient for both care provider and patient to maneuver. It features an easy to use pendant control, providing motorized positioning to increase the patient's comfort. All models feature welded steel construction and reinforced head and foot springs to provide optimal bed durability and support. They also feature a two piece split-spring design that is easy to set up and operate. They feature 3 inch casters that swivel and lock. The electric operating system provides quiet, smooth operation and is UL approved. Many standard hospital beds are typically 36 inches wide, 88 inches long, and have a weight capacity of 350-450 pounds.
The Hi Low Hospital Beds are convenient for people who have a difficult time getting up or getting down and designed to reduce potential injuries from falls. Both models feature welded angle steel construction with reinforced corner plates to provide maximum stability. They also feature reinforced head and foot springs to provide optimum bed strength. The are several models to choose from including manual, semi-electric & electric model.
The Nursing Home Bed is a manual hospital bed specially designed for nursing homes. Its welded steel construction ensures durability, stability, and long-term operation. It features reinforced head and foot springs that provide increased support. It also features 3 inch swivel casters that lock for secure stability. This model has a width of 36 inches, a length of 88 inches, and has a weight capacity of 460 pounds.
The Heavy Duty Electric Hospital Bed built with extra-strength components to make it capable of supporting 600 pounds. It features a wide sleeping surface of 42 inches for extra space and comfort. The welded angle steel construction features reinforced corner plates for maximum stability. The two piece split-frame design is easy to use, set up, and operate. For increased maneuverability and security, this model features 4in locking swivel casters. The electronic operating system is safe, reliable, and built to last.
Our inventory carries the most durable and reliable Bariatric Adjustable Hospital Beds available. The precision engineering and super strength components make these bariatric beds the best on the market. This Bariatric Full-Electric Hospital Bed model has a width of 48 inches and a weight capacity of 800 pounds. This Bariatric Full-Electric Hospital Beds has a width of 54 inches, this Bariatric Full-Electric Hospital Bed a width of 60 inches, and both models have a weight capacity of 1000 pounds. All models feature a length of 88 inches. The state-of-the-art electronic system operates safely, smoothly, and is UL approved.
MSEC remains dedicated to stocking the very best and the very latest in medical supplies and equipment. We never cease to be on the lookout for the latest innovation that will benefit both our many clients and the patients they dedicate their lives to caring for. If you have any difficulty finding your choices in our vast inventory, call our customer service at 1-877-706-4480 to speed up your order or to make a special request. We are always happy to help you.