Home » Hospital & Durable Medical Equipment » Electric Hospital Beds Designed With Patient Comfort in Mind » Electric Hospital Beds Designed With Patient Comfort in Mind
Electric Hospital Beds Designed With Patient Comfort in Mind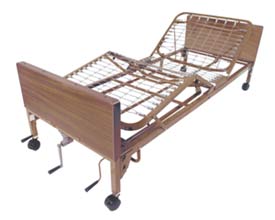 Item# 30051DRV
Retail Price: $897.54
Your Price: $794.46
Unit:
single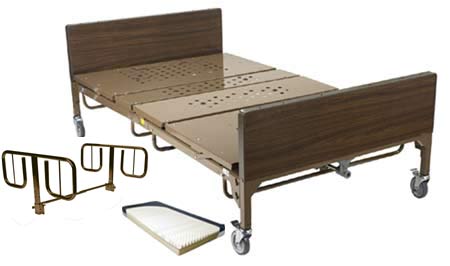 Item# 2-GKP-VB00351DRV
Retail Price: $4,260.69
Your Price: $2,238.21
Unit:
single
Item# MS3C-MMB100
Retail Price: $889.00
Your Price: $595.25
ships w/i 20-25 days
Unit:
single
Medical facilities will need to equip their rooms with the most comfortable means of accommodating their in-patients. This requires the use of electric hospital beds in the rooms. The patient will not be lying on his back the entire time, and he must find some way to comfortably and easily change his position. When he is sitting up, to save the cost and inconvenience of finding additionally pillows to prop his body, most patients just adjust their beds to raise the head, but how they do it can change the flow of the nurse's duties in a hospital. There are manual crank models which require a nurse to change the position. A manual bed cannot be altered by the patient while he is in it. This requires repeated calls to the nurse's station that could be avoided with the use of electric hospital beds. These do not require the patient repeatedly calling upon the nurse to move the head or the foot of his beds up or down; he can control it himself. Most patients and nurses will prefer an electric to a manual model of their beds. The time saved by the nurses will more than repay the costs of these beds.
When you are looking for an electric hospital beds, you will need to consider that these will get repeated use several times daily by patients of all sizes. Generally, the larger the patient, the greater the strain will be put on the gears and motor of the bed. When purchasing beds, the motor should never grate or grind during use. This is a sign that it is wearing down. In most cases, poorly made, lesser quality models are more likely to exhibit grinding when used. This is why you need to avoid these and opt for high caliber models crafted of heavy duty materials. These will be able to accommodate supporting and moving your larger patients. Ideally, if the electric hospital beds are to be used by obese patients, there are bariatric adjustable beds available which are more carefully designed for use by larger in-patients. Bariatric models are wider, usually 48 to 60 inches wide, and they have motors which are geared toward moving the necessary load. It will be useful to have a selection of these larger models available, since bariatric patients will not be able to fit in regularly sized electric hospital beds, nor will the motor of the bed be able to handle the excess strain.
Just like any bed, electric hospital beds should be easy for both the patient and the caregiver to use. If there are side rails, their removal and replacement should be a simple task for the nurse and or the patient. If the bed is to be used by a juvenile, the side rails should lock into place and only be removed by the caregiver. There are smaller youth safety beds available with just such a feature, as well as being sized for children. Children should not have access to the controls if they are given an electric hospital bed. Many young people would like to play with the control mechanism, and that unnecessary use can wear down the motor much faster, as well as pose a potential hazard for the juvenile.
Above all else, the electric hospital beds should be easy for the patient and caregiver to use, built of sturdy materials, and have a strong, long-lasting motor to accommodate the widest range of patient sizes. Finding such beds will ensure that you are getting the best quality available.
MSEC remains dedicated to stocking the very best and the very latest in medical supplies and equipment. We never cease to be on the lookout for the latest innovation that will benefit both our many clients and the patients they dedicate their lives to caring for. If you have any difficulty finding your choices in our vast inventory, call our customer service at 1-877-706-4480 to speed up your order or to make a special request. We are always happy to help you.