Home » Hospital & Durable Medical Equipment » Don't Be Shocked By Electric Beds » Don't Be Shocked By Electric Beds
Don't Be Shocked By Electric Beds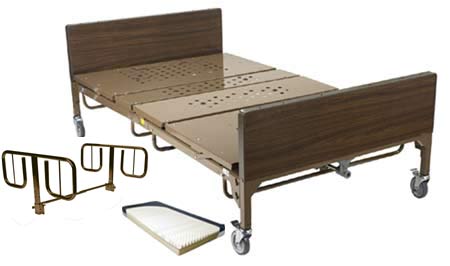 Item# 2-GKP-VB00351DRV
Retail Price: $4,260.69
Your Price: $2,238.21
Unit:
single
Item# MS3C-MMB100
Retail Price: $889.00
Your Price: $595.25
ships w/i 20-25 days
Unit:
single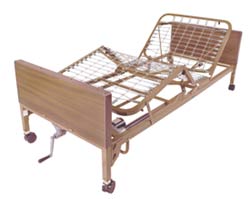 Item# 40051DRV
Retail Price: $3,148.03
Your Price: $2,503.19
Unit:
single
If you are looking for an adjustable beds but you want more convenience than is offered by a manual model, you probably have thought about acquiring an electric beds. The choices are overwhelming. Whether you are a patient looking for a model for in home care, or a medical facility supplier looking to stock many rooms with these beds, the features you need to look for are the same. You will want your bed to last for many years to come, and the only way that you can be assured of this will be to purchase the highest quality of electric bed you can find. High caliber beds are easy to find if you know what to look for.
The first thing to consider in selecting your electric bed will be the size of the patient. There are two main types of these adjustable beds which are geared toward patients of various sizes. If the patient is up to 450 pounds, a standard model will suffice, but for larger patients, you will need to take a look at the various models of bariatric beds. These beds range in widths from 48 inches to 60 inches, and they will support weights from 600 to 1000 pounds.
No matter what the patient's size is, you will need to find a sturdy steel frame with a lifetime guarantee. This ensures that your beds will last. The frame is especially important for electric beds since it will be bending and flexing with the Mattress. This means that it is being subjected to stresses which are uncommon to ordinary stationary beds. Unlike in an inner spring mattress bed, the frame of an adjustable typically gives the patient most of the support. This is because the mattress of an adjustable bed is usually crafted of high density foam which will bend and flex with the bed. The foam needs to be fire retardant for optimal safety. You can find inner spring mattress to accompany your electric bed, but you will need to look for firm models that are able to withstand the bending and movement they will be subjected to.
The motor is likely to be the first thing to wear out in an electric bed. That is, unless you have a well-made motor designed to withstand constant use. The motor itself should be silent in its operation. Grinding is a sign of straining from a motor that is being overworked. That motor will need frequent replacements. A quiet motor that is UL approved for use is the ideal situation for optimal safety and longevity.
Unless you purchase an all-inclusive package, you will be buying the various components of the bed separately. This includes the frame, mattress, Foot and head, and rails, as well as any other bedding materials such as canopies, mattress pads or linens. This will allow you to pick and choose your preferences when making your electric bed choices. This increased flexibility can let you find the highest quality products in each category to ensure that your bed will have a long life.
Sturdiness, high grade materials, and a quality motor are just some of the hallmarks you should look for in a well made electric bed whether you need the bed for home or hospital use.
MSEC remains dedicated to stocking the very best and the very latest in medical supplies and equipment. We never cease to be on the lookout for the latest innovation that will benefit both our many clients and the patients they dedicate their lives to caring for. If you have any difficulty finding your choices in our vast inventory, call our customer service at 1-877-706-4480 to speed up your order or to make a special request. We are always happy to help you.